IsoTek - EVO3 POLARIS/PREMIER PACK
Isotek combination pack: 1 x Polaris 6 outlet power board, with 3 x Premier power cables (1.5 metres) (More information)
Availability:

Discontinued

Categories:

Sub-categories:

Brand:

Delivery:

FREE Delivery Australia Wide
Need Affordable Installation?
For our Adelaide customers, Vision Hifi offers a range of affordable installation services for your home or office. Discover our Installation Services .
Buy this Product
---
FREE Delivery Australia Wide
This product is each.
This product is currently unavailable to order.


Product Details
Isotek Polaris power board:
Your chance to enter IsoTek's innovative and multi award-winning range of power conditioning solutions. Polaris is a cost effective upgrade to any audio or audio-visual system, delivering improved performance, protection and astonishing value for money.
Removes Common Mode and Differential Mode mains noise.
RFI reduction 30dB.
Independent outlets stop Differential Mode cross contamination.
Unique delta filter topology improves product performance.
13,500A of instantaneous protection, featuring IsoTek's unique sequential protection system.
Internal wiring; multi-strand silver plated OFC copper with PTFE dielectric.
Available in UK, EU, US, AU, CH and ZA sockets.
Maximum continues power 2,300W.




SPECIFICATIONS
| | |
| --- | --- |
| Number of outlets | 6 |
| Type of outlets | UK, EU, US, CH, AU & ZA |
| Standard mains inlet | 10A IEC fused |
| Mains voltage | 100-240VA 50-60Hz |
| Maximum current | 10A HRC |
| Total wattage | 2300W (UK, EU, CH, AU, ZA) 1100W (US) |
| Dimensions | 80 x 45 x 480mm (W x H x D) |
| Weight | 1.0Kg |
Isotek Premier power cables:
Our most affordable mains cable, the EVO3 Premier was inspired by discussions with high-end electronics companies, many of whom produce audio equipment that retails for tens of thousands of pounds and yet is bundled with poor quality power cords that significantly constrain performance.
This led us to produce a high-quality alternative that respects standard geometric principles, but where every single element is carefully considered, implemented and manufactured to the highest possible standard. There are many brands offering high- quality power cables but these are often very expensive, and also impractical because of their inflexibility and weight. Our goal was to attain similar levels of performance from a more practical cable at a fraction of the price.
The EVO3 Premier not only delivers excellent performance, it also represents outstanding value-for-money. No compromise has been made in relation to the quality of parts and materials used in its construction.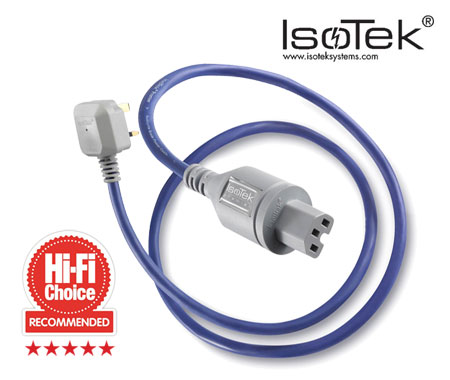 SPECIFICATIONS
IsoTek Premier uses high quality materials with intelligent construction to deliver a power cable of outstanding performance and mechanical integrity, which will not degrade over time or break your bank balance.
| | |
| --- | --- |
| Cable Length | 1.5m standard (no custom length) |
| Outer Diameter | 10mm |
| Outer Jacket | High flexibility PVC |
| Barrier/Wrap | Paper wrap |
| Filler | Cotton |
| Insulation/Dielectric | Fluorinated Ethylene Propylene (FEP) |
| Conductors | 3 x 2sqmm |
| Material | Silver-plated 99.9999% Oxygen Free Copper |
| Capacitance Power Rating Propagation | 16 Amp |
| Unique Termination | Terminated with bespoke audiophile-grade connectors with 24ct gold-plated OFC conductor pins |
| Suitability | Suitable for CD players, preamps, tuners, power amps, Blu-ray players, music servers, TVs, soundbars and more! |
Send us an enquiry
Talk to an Expert
Our Vision Hifi staff members are available to discuss our products and your requirements. Contact us today for assistance.
Contact Details
1300 721 480

Vision Hifi
327 Goodwood Road
Kings Park SA 5034