Bowers & Wilkins 683 S2 NEW (black only)
The 683 S2 features a Decoupled Double Dome tweeter - technology evolved from Bowers & Wilkins CM10 speaker. (More information)
Availability:

Discontinued

Categories:

Sub-categories:

Brand:

Delivery:

FREE Delivery Australia Wide
Need Affordable Installation?
For our Adelaide customers, Vision Hifi offers a range of affordable installation services for your home or office. Discover our Installation Services .
Buy this Product
Your Price

$2,499

(per pair)

---
FREE Delivery Australia Wide
This product is per pair.
AUTHORISED AUSTRALIAN B&W DEALER
This product is currently unavailable to order.


Product Details
Bowers & Wilkins 683 S2
Floor Standing Speakers

The double dome design uses an extremely thin aluminium dome for lightness, surrounded by a thicker aluminium ring for rigidity. The result is a far more precise treble performance. And while the tweeter looks like it's part of the main speaker, it's physically separated in its own gel-filled cavity, so performance isn't hit by unwanted resonances or vibrations, for a more natural, spacious sound.
Serious and accurate bass performance is equally vital to such a room-filling speaker. That's why the 683 S2 features anew bass driver construction method, using a similar method of bracing to the tweeter with twin layers of aluminium. The richer, distortion-free bass response is sumptuous.
As well as new bass driver construction techniques and a new tweeter, brought in from Bower & Wilkins high-end series, the 683 S2 also boasts an FST Kevlar mid-range driver. Serious technology, serious performance, but seriously affordable for a speaker of this calibre.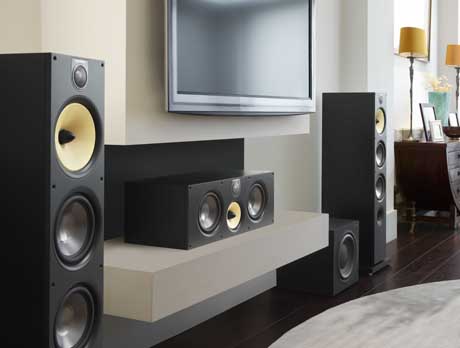 Specifications:
3-Way Floor Standing Speaker
1 x 25mm (1") aluminium dome high-frequency
1 x 150mm (6") woven Kevlar cone
2 x 165mm (6.5") FST midrange Aluminium cone bass drivers
Sensitivity: 89dB spl (2.83v/1 metre)
Frequency Response: 52Hz - 22kHz +/- 3dB on reference axis
Frequency Range: -6dB at 30Hz and 50kHz
Crossover Frequency: 400Hz, 4kHz
Nominal Impedance: 8 ohms (minimum 3.0 ohms)
Recommended Amplifier: 25W - 200W into 8 ohm on unclipped programme
Dimensions (H x W x D): 985mm x 190mm x 364mm
Net Weight: 27.2kg
Finishes: Black Ash, White
<form id="edit" class="form-horizontal form-condensed" method="post" action="/dashboard/edit/product/838"></form>
Send us an enquiry
Talk to an Expert
Our Vision Hifi staff members are available to discuss our products and your requirements. Contact us today for assistance.
Contact Details
1300 721 480

Vision Hifi
327 Goodwood Road
Kings Park SA 5034