Isotek EVO 3 Initium power cable 1.5 metre
EVO3 Initium is IsoTek's new entry level power cable designed to offer high quality performance at an extremely fair price. Initium is a must for replacing all of your free standard black plastic power leads which have been designed down to a price not up to a quality. (More information)
Availability:

Ship in 3-5 Business Days

Categories:

Sub-categories:

Brand:

Delivery:

FREE Delivery Australia Wide
Need Affordable Installation?
For our Adelaide customers, Vision Hifi offers a range of affordable installation services for your home or office. Discover our Installation Services .


Product Details
The Initium is the lastest of the new EVO3 (Evolution Three) power cables from IsoTek. It heralds a significant step up in quality of materials used and represents, we believe, one of the highest quality and specification power cables at its price point. Sourcing of specialist high quality materials. The design and development of IsoTek's own bespoke and unique nickel plated copper connectors. Extremely high quality materials used for construction given the price. 3x2sqm 99.9999% OFC conductors with Polyethylene (PE) dielectric. 3-core twisted cable to aid RFI and EMI rejection. Nickel plated connectors.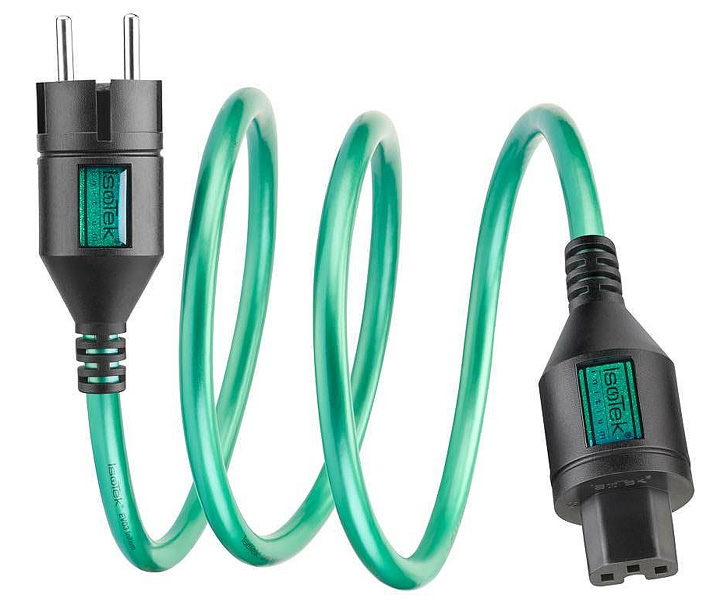 Only Available in C15 termination.
CONSTRUCTION: The conductors are in a parallel construction with a slight rotational twist. This established technique remains the first line of defence against RFI and EMI rejection.
A) Conductors: 99.9999% OFC conductors offer an exceptional level of purity with enhanced conductivity. They are less likely to fracture or degrade over time.
B) Dielectric: PE dielectric (insulation) is chemically inert and has a very low dielectric constant over a wide frequency range. PE possesses a very high degree of stress crack resistance and a low coefficient of friction making it an exceptional dielectric. PE is a good choice for safety in both temperature and electrical insulation.
C) Filler: Cotton filler has been used to give the cable internal strength and reduce microphony. Cotton also possesses excellent dielectric properties, the best of a solid material.
D) Wrap: A paper wrap is used to secure the construction prior to the application of a flexible PVC jacket. The addition of the paper and cotton form a buffer with the PVC so as to maintain exceptional dielectric properties.
E) Jacket: PVC is used as the outer jacket to give a high degree of flexibility and mechanical strength.
TERMINATION: Initium cable is terminated using IsoTek's bespoke Audiophile grade moulded connectors of solid OFC. These offer good performance qualities.

SPECIFICATIONS
IsoTek Initium uses high quality materials with intelligent construction to deliver a power cable of outstanding performance and mechanical integrity, which will not degrade over time or break your bank balance.
| | |
| --- | --- |
| Cable Length | 1.5 m standard (no custom length) |
| Outer Diameter | 10 mm |
| Outer Jacket | High flexibility PVC |
| Barrier/Wrap | Paper wrap |
| Filler | Cotton |
| Insulation/Dielectric | Poly ethylen (PE) |
| Conductors | 3 x 2sq mm |
| Material | 99.9999% Oxygen Free Copper |
| Capacitance Power Rating Propagation | 16 Amp |
| Unique Termination | Terminated with bespoke audiophile-grade connectors with robust nickel plating |
| Suitability | Suitable for CD players, pre-amps, tuners, power amps, Blu-ray players, music servers, TVs, soundbars and more! |
Send us an enquiry
Talk to an Expert
Our Vision Hifi staff members are available to discuss our products and your requirements. Contact us today for assistance.
Contact Details
1300 721 480

Vision Hifi
327 Goodwood Road
Kings Park SA 5034