Yamaha MX-A5200 Aventage 11 Channel Home Theatre Power Amplifier
Experience the ultimate in home theatre performance and versatility with the MX-A5200 AVENTAGE power amplifier. The 11-channel system exemplifies the pursuit for purity of sound and unsurpassed flexibility. (More information)
Availability:

Call to Buy

Categories:

Sub-categories:

Brand:

Delivery:

Contact us for Delivery Charges
Need Affordable Installation?
For our Adelaide customers, Vision Hifi offers a range of affordable installation services for your home or office. Discover our Installation Services .
Buy this Product
---
Contact us for Delivery
Order this product by calling us on 1300 721 480.
Vision Hifi is an Authorized Reseller. Order this product by calling us on 1300 721 480.


Product Details
AVENTAGE Separate Components represent the pinnacle in exhilarating home entertainment.
In pursuit of the ultimate in home cinema, Yamaha establishes a new benchmark in performance and innovation.
Introducing the CX-A5200 pre-amplifier and MX-A5200 power amplifier (CX-A5200 sold separately).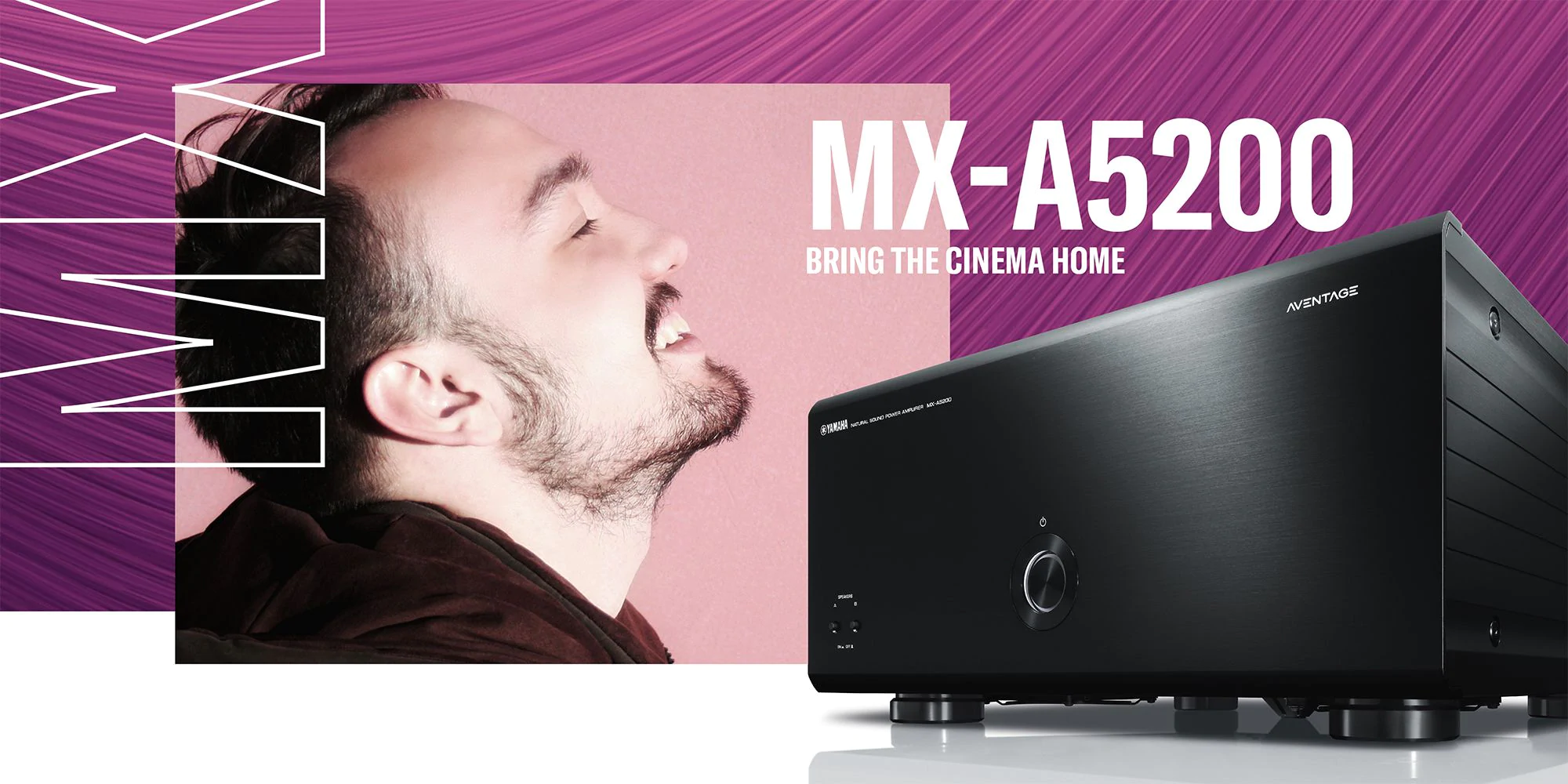 Power and Presence
The MX-A5200 offers 11 x discrete channels of amplification with flexible configuration options - delivering an impressive combination of power and quality.
Enjoy the flexibility of a multi-zone system or immerse yourself in exhilarating surround sound using any combination of 11-channels.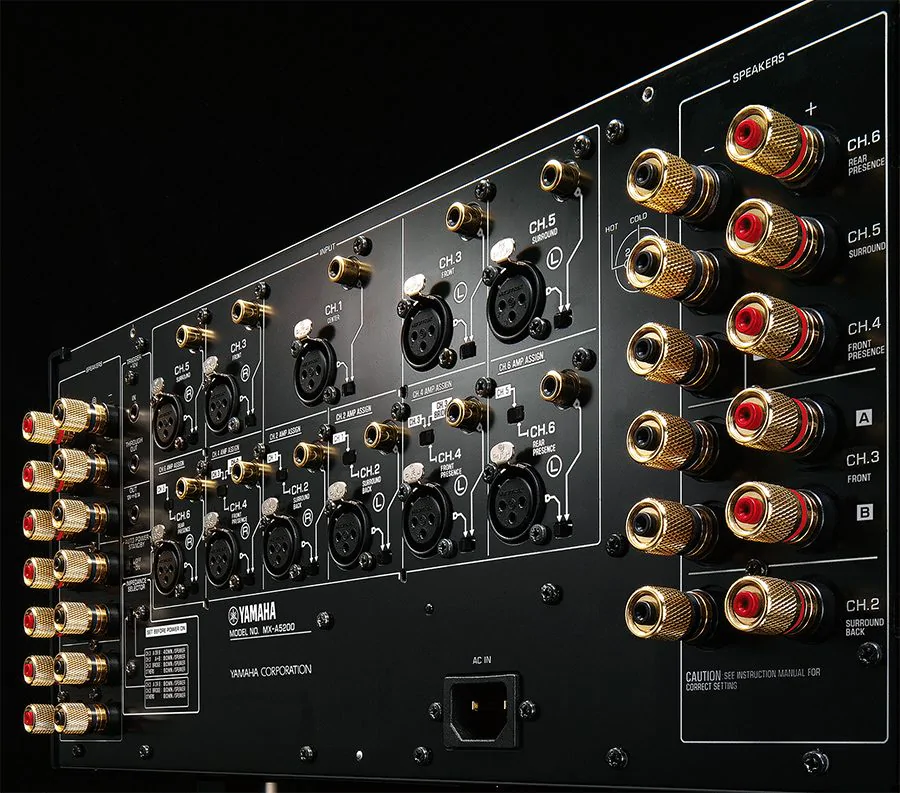 Ultimate Performance with BTL
To further enhance power capacity, the MX-A5200 supports Bridge Tied Load (BTL) configuration for the front 2 channels. This allows for a major improvement to the front speaker performance.
Uncompromising Design
As part of its uncompromising design, the MX-A5200 boasts a specially designed chassis to maximise rigidity and eliminate the effects of vibration.
The MX-A5200 employs a double bottom construction consisting of vibration control plates made of 1.6 mm steel - echoing that of the legendary Z11 AV Receiver.
In order to support the heavy heat sinks and other components, a left-right independent construction strengthened by a rigid-frame structure is utilised.The bottom frame reduces the transmission of vibration produced by the large power supply transformer and heat sinks.
The MX-A5200 also incorporates a heavy insulator that blocks external vibration.
---
Perfectly Symmetrical
Precisely planned, circuit-routed and designed with a symmetrical power amplifier layout, the MX-A5200 achieves ideal channel separation with left and right sides being both physically and electrically isolated.
The design also greatly improves signal-to-noise ratio and achieves an expansive sound stage.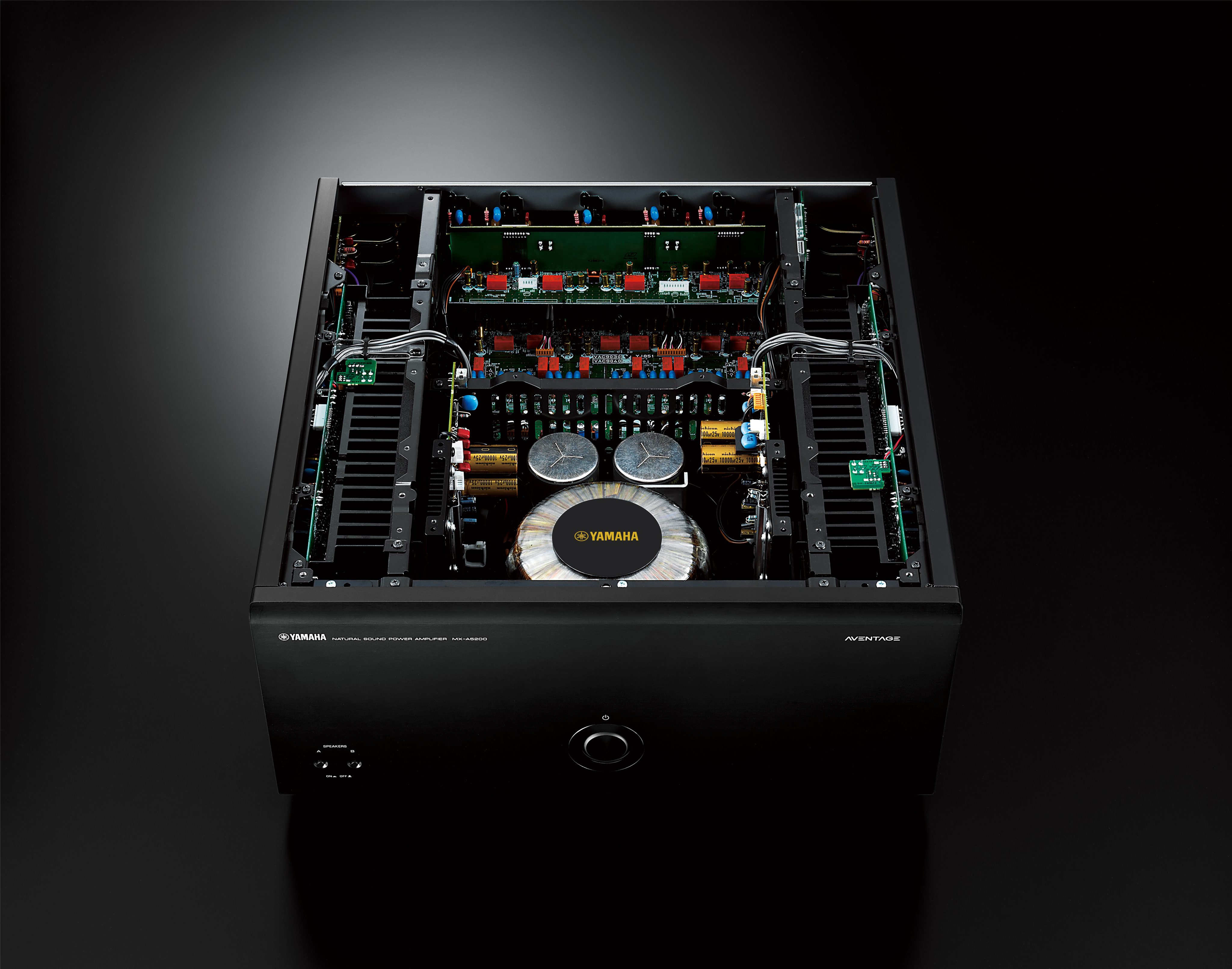 ---
Effortless Performance
The MX-A5200 utilises a high-output, large toroidal transformer combined with two specially developed high-capacity block capacitors to deliver massive power with generous headroom.
Also, energy loss is minimised and ensures effortless reproduction of sound sources.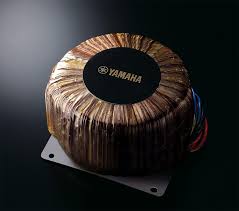 Rated Output Power: 150W, 8oh, 20Hz - 20Khz, 2Ch driven, 0.06% THD
Analogue Audio Input: 11 x Balanced/XLR, 11x Unbalanced/RCA
Standby Consumption: 0.1W Typical
Dimensions: 435 x 211 x 464 (W x H x Dmm)
Weight: 26.4kg
Power Consumption: 650W

Contact Vision Living to book an appointment in our outstanding showroom for a demonstration.

Send us an enquiry
Talk to an Expert
Our Vision Hifi staff members are available to discuss our products and your requirements. Contact us today for assistance.
Contact Details
1300 721 480

Vision Hifi
327 Goodwood Road
Kings Park SA 5034