Triad On-Wall MicroSat 3.0 passive soundbar speaker
Availability:

Call to Buy

Categories:

Sub-categories:

Brand:

Delivery:

Contact us for Delivery Charges
Need Affordable Installation?
For our Adelaide customers, Vision Hifi offers a range of affordable installation services for your home or office. Discover our Installation Services .
Buy this Product
---
Contact us for Delivery
This product is each.
Order this product by calling us on 1300 721 480.
Vision Hifi is an Authorized Reseller. Order this product by calling us on 1300 721 480.


Product Details
Triad's new compact 3-in-1 front speaker is designed for use with shallow flat-panel televisions. Despite its small profile, this value-priced speaker delivers big sound. When used without a subwoofer, sound is full and clear, with healthy output. And augmenting the MicroSat 3.0 with one of our OmniSubs or many InWall or InCeiling subs delivers great home theater performance.

The OnWall MicroSat 3.0 is the shallowest of Triad OnWall speakers, with a depth of only 2-1/4". In addition to the standard width, custom versions are available at extra cost up to a width of 82". Custom paint matching is available, so we can paint your speaker to match your wall or your TV. Real wood veneer is also an option, at extra cost. With a variety of installation options, the OnWall MicroSat 3.0 can mount to the wall or directly to the television. All MicroSat 3.0s are built-to-order, one at a time, in America.
There's no reason to put up with the mediocre sound provided by today's flat-panel TVs. The On-Wall Micro-Sat 3.0 delivers high-definition sound to go with your high-definition picture..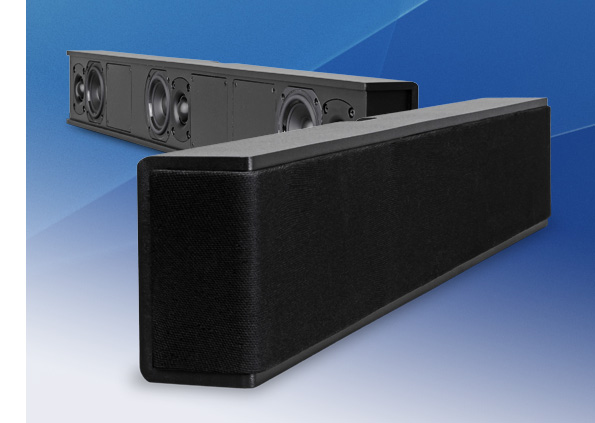 Cabinet Width 32-1/16" (81.1 cm)
Height 4" (10.2 cm)
Depth from bracket to grill 2?5/16" (5.9 cm)
Miscellaneous Shipping weight 11 lbs. (5 kg)
Actual product weight 6 lbs. (2.72 kg)
Drive Units (3) 1" Fabric dome proprietary tweeter. (3) 3" Polycone woofers.
Power Handling: (ea. channel)
Recommended amp power 25 - 75 watts
Impedance Nominal impedance 8 ohms. 6 ohms minimum.
Sensitivity 85dB (2.83v, 1m)Anechoic
Frequency Response 150 Hz - 20 kHz (+/-3 dB)
Enclosure Fully braced & sealed MDF enclosure.
Elegant cloth grill.
Compact on-wall design.
Finishes Available in black, white, silver and custom paint matched finishes.
Custom Width Options This product is also available in custom lengths to match the exact width of your Plasma or Flat Screen Television within 1/4" increments for a small fee.
Maximum width is 66 inches.
Send us an enquiry
Talk to an Expert
Our Vision Hifi staff members are available to discuss our products and your requirements. Contact us today for assistance.
Contact Details
1300 721 480

Vision Hifi
327 Goodwood Road
Kings Park SA 5034