Velodyne EQ-Max15 powered subwoofer
Velodyne 15" Subwoofer Forward Firing, 750 watts RMS. (More information)
Availability:

Ship in 3-5 Business Days

Categories:

Sub-categories:

Brand:

Delivery:

FREE Delivery Australia Wide
Need Affordable Installation?
For our Adelaide customers, Vision Hifi offers a range of affordable installation services for your home or office. Discover our Installation Services .


Product Details
No other subwoofers in this price range give you so much for so little! This series has -- at an affordable price point -- mid-level amplifier power reaching down to the lowest frequencies, Auto-EQ function and remote control features found in more expensive subs. The EQ-Max series serves up more power to a lower bass range than our entry-level Impact series by using downward firing ports to limit distortion. This series features modern cabinets to blend beautifully into your room, but these subwoofers can also be easily built into and concealed in your own custom cabinets.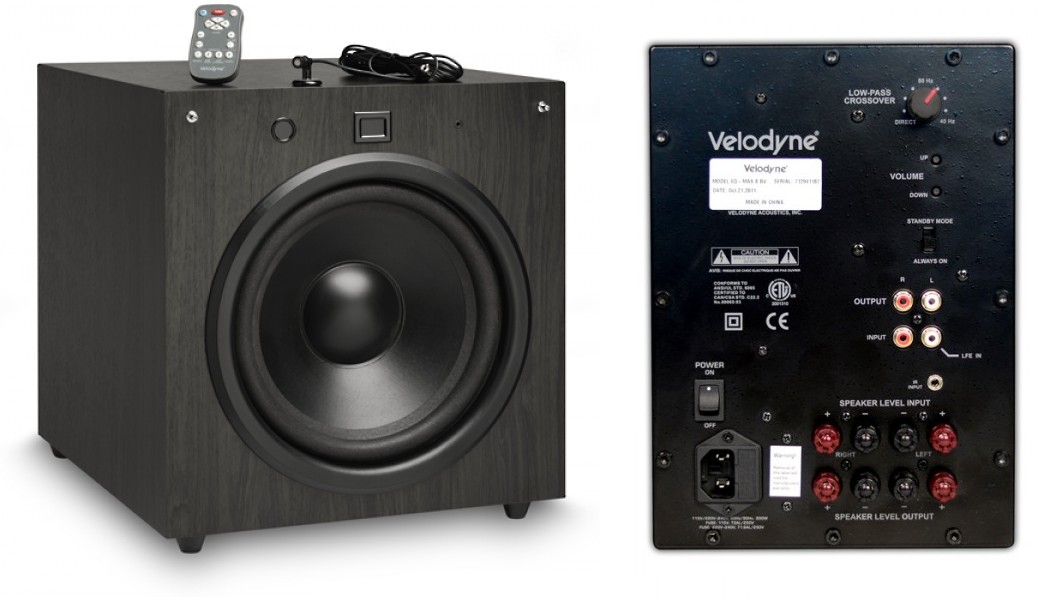 Detailed Specifications
DIMENSIONS





Speaker dimensions (H x W x D): 54.6 x 48.3 x 53.3 cm (includes feet and grill)
Subwoofer: 15" forward firing (12.7" piston diameter)
Shipping Weight: 34kg

GENERAL





Cabinet Design: Extended Excursion Down-firing port
LED Display: Yes
Removable Grill: Yes
Auto On/Off: Yes
Amplifier: 1500 Watts Dynamic / 750 Watts RMS Power
Frequency Response: 14-240 Hz (overall), 23-120 Hz (+/-3)
Voice Coil: 2.5" 4-Layer Copper
Cone: Reinforced Fiber
Magnet weight: 10.14 lbs
High-Pass Crossover: 80Hz, 6dB/octave
Low-Pass Crossover: 40-120 Hz adjustable
Digital Phase: 0, 90, 180, 270 degrees
Warranty (parts/labour): 2 Years (electronics & drivers)

SIGNALS





Outputs: Gold plated line-level, nickel plated speaker level
Inputs: Gold plated line-level, nickel plated speaker level


Send us an enquiry
Talk to an Expert
Our Vision Hifi staff members are available to discuss our products and your requirements. Contact us today for assistance.
Contact Details
1300 721 480

Vision Hifi
327 Goodwood Road
Kings Park SA 5034