Yamaha YSP2700 Premium Soundbar
Yamaha's MusicCast YSP2700 surround soundbar has just received a 5 star award in the latest What Hi-Fi magazine... "exceptional dynamics and quality from a single bar at the front of your room" (More information)
Availability:

Ship in 3-5 Business Days

Categories:

Sub-categories:

Brand:

Delivery:

FREE Delivery Australia Wide
Need Affordable Installation?
For our Adelaide customers, Vision Hifi offers a range of affordable installation services for your home or office. Discover our Installation Services .


Product Details
Star Review
YSP2700 MusicCast Soundbar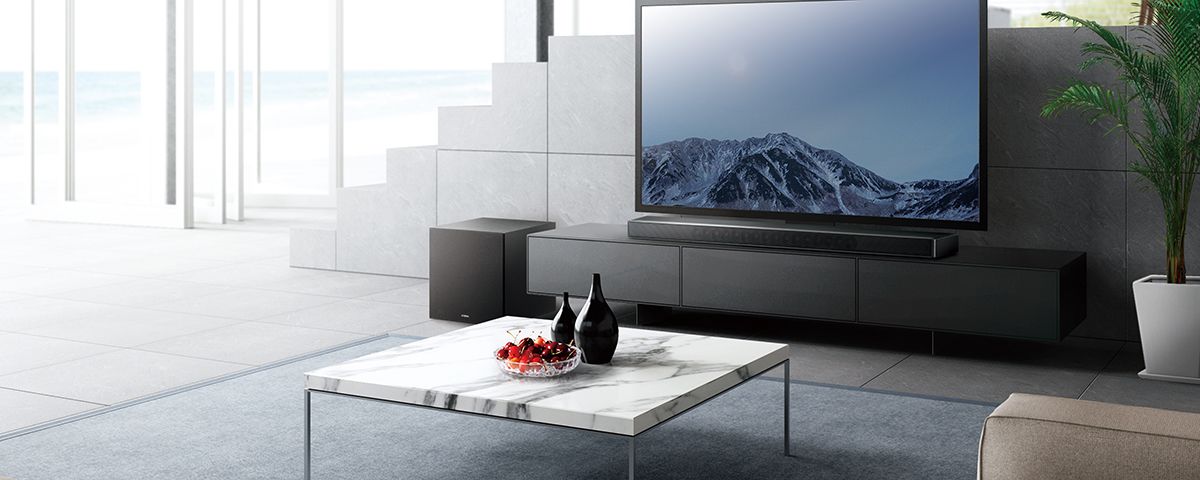 Yamaha's MusicCast YSP2700 surround soundbar has just received a 5 star award in the latest What Hi-Fi magazine, the 40th year anniversary issue 2016. The review talks about the exceptional dynamics and quality from a single bar at the front of your room, bouncing beams around the room to give you surround sound. Not only is it geared for movies but also for music and enjoying your favourite content, no matter what it is.
With a whole host of handy features like Clear Voice, Auto Calibration, multi-room with MusicCast and different CinemaDSP modes to suit your content, it's a soundbar with incredible added value!
Amazing real 7.1-ch surround sound by digital surround projector technology
YSP2700 creates beams of sound by combining the sound projector's many speaker groups via digital signal processing and reflects them off the walls of the room, actually reproducing a realistic 7.1channel surround effect with the sound coming from the left and right and even from the rear. The listening area is expanded so you enjoy an extremely powerful, natural sense of presence unobtainable with virtual surround methods.
Overwhelming Realism with 16 speakers
The front face of the YSP2700 is equipped with an array of 16 2.8cm high sound quality speakers which create beams of sound. Yamaha has optimised the layout of its array speakers, boosting the reflection properties of the beams to maximise sound quality.
The Beauty and Elegance of High Quality Materials
The centre unit is made from aluminium with outstanding rigidity.
The top cover is a thick aluminium panel with a hairline finish, giving it an elegant appearance. The subwoofer has a simple design that blends nicely with any interior.
Sleek, Sophisticated Appearance
With a height of only 51mm, the slim-design centre unit can be placed in front of a TV without blocking the picture. The high-class minimalist design and aluminium chassis will definitely add a sophisticated appearance to your interior decor.
Wireless Subwoofer for Flexible Placement
The subwoofer eliminates the need to connect cables, so setup and placement are faster and easier. This is a convenient subwoofer that delivers powerful, high quality bass sound.
MusicCast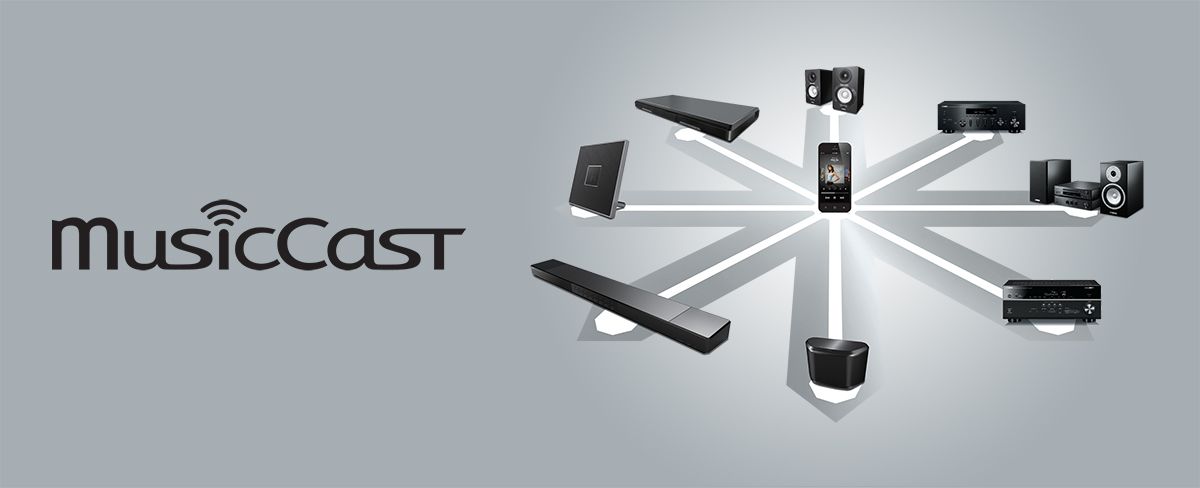 MusicCast is a new revolution in network audio, use all your MusicCast products together or separately, it's completely up to you. Control it all from one app, designed to be intuitive, quick and simple to use. Use a soundbar, a wireless speaker, an AV Receiver, Hi-Fi audio whichever suits you best, mix and match then expand your MusicCast system as time goes on.
The MusicCast system brings everything to everywhere for everyone.

MusicCast employs a high performance wireless network to deliver music and audio enjoyment. It can stream digital music content from your smartphone, PC or NAS Drive to other MusicCast devices in your home. It can also share the music from external devices such as a TV or BD player connected to the YSP2700. Audio content from Bluetooth-connected smartphones or tablets can also be streamed to MusicCast devices in multiple rooms.
Overview
Sophisticated technology in one sleek package. The solution for all your space saving needs.
Digital Sound Projector technology with 16 array speakers reproduces true 7.1-ch surround sound
MusicCast for audio enjoyment in every room
Wireless cubic subwoofer for rich and crisp bass
IntelliBeam automatically sets the optimum sound field for each room
Provides a choice of 10 CINEMA DSP options
HD Audio Format Decoding (Dolby TrueHD, DTS-HD)
Supports 192 kHz / 24-bit High Resolution Music(Flac / WAV / AIFF)
HDMI (3 in / 1 out) input with 4K60p Pass through and HDCP2.2
Bluetooth for wireless music streaming
Supports Bluetooth output for pairing YSP2700 and other Bluetooth equipped products
AirPlay allows music streaming from Mac, PC, iPod,iPhone, iPad
Support for internet radio and various music streaming services
Control app for easy operations (MusicCast CONTROLLER)
Compressed Music Enhancer
Clear Voice makes dialogue and narrations easy tol isten to
Easy-to-see On Screen Menu view-able in ten languages
(Japanese, English, Germany, French, Italian,Spanish, Dutch, Swedish, Russian, Turkey)
Control4 certification
Wall-mountable with SPM-K20 (optional)
Send us an enquiry
Talk to an Expert
Our Vision Hifi staff members are available to discuss our products and your requirements. Contact us today for assistance.
Contact Details
1300 721 480

Vision Hifi
327 Goodwood Road
Kings Park SA 5034