Van Den Hul Mini Sub Hybrid RCA subwoofer cable 10 metre
Van Den Hul subwoofer cable (More information)
Availability:

Ship in 3-5 Business Days

Categories:

Sub-categories:

Brand:

Delivery:

FREE Delivery Australia Wide
Need Affordable Installation?
For our Adelaide customers, Vision Hifi offers a range of affordable installation services for your home or office. Discover our Installation Services .


Product Details
THE MINISUB HYBRID (HALOGEN FREE)
The MINISUB Hybrid typically has been designed as an active subwoofer cable. It is extremely flexible, and has an attractive cream colored jacket that blends easy in any interior, making it very suitable for longer length subwoofer cable application and all interconnections where there is need for a very flexible, price-efficient cable.
The design combination of a superior transmission quality, a very low conductor-conductor capacitance, a very high screening factor together with a high mechanical flexibility and a long durability, though not being easy to manage, successfully has been achieved.

The balanced construction, is made with two centre conductors each having 12 x 0.15 mm. strands. (AWG 24 each, respectively in red and black foamed polypropylene insulation).

The conductor material is large crystal OFC with a dense silver coating.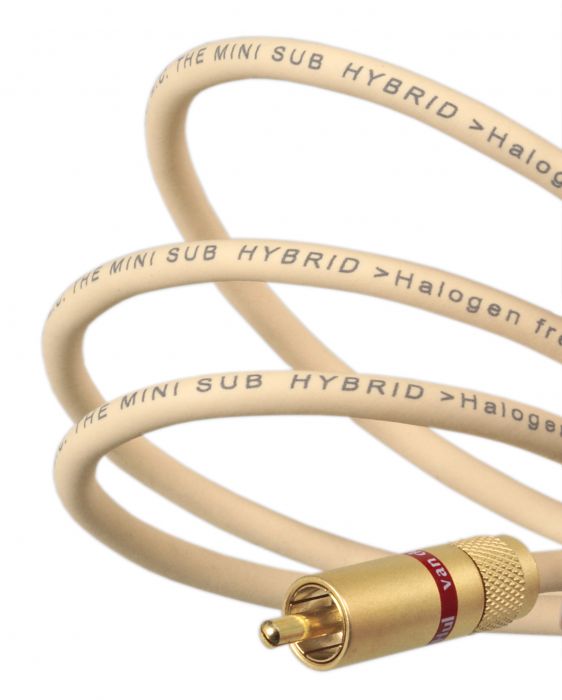 THE MINISUB HYBRID (HALOGEN FREE)

material
Hybrid
product category
interconnect - Balanced, Unbalanced, Analogue, Entry-level
product category
speaker cable - Single-lead, Entry-level
cable type
Screened twin core (Balanced)
conductor material
Large Crystal OFC with a dense Silver coating
design purpose
Active Subwoofer cable / Stereo Interconnect
eff conductor
Cores: 0.212 mm2 / Cores: ~AWG 24 / Cores: 12; Screen: 144
external diameter
5.0 mm.
jacket colors
Cream
resistance
Cores: 8.5 Ohm/100 m.; Screen: 1.7 Ohm/100 m.
capacitance
Core-core: 44 pF/m
insulation

Cores: Polypropylene foam; Jacket: HULLIFLEX ® / 300 Vrms min.

connector types

RCA.

standard sales units

As single in 3.0, 5.0 and 10.0 m. lengths.

remarks

RCA connector terminated units are equipped with a ground-end marking sticker.
Send us an enquiry
Talk to an Expert
Our Vision Hifi staff members are available to discuss our products and your requirements. Contact us today for assistance.
Contact Details
1300 721 480

Vision Hifi
327 Goodwood Road
Kings Park SA 5034