Musical Fidelity MX-HPA balanced headphone amplifier
The MX-HPA is a fully balanced ultra performance headphone amp. (More information)
Availability:

Call to Buy

Categories:

Sub-categories:

Brand:

Delivery:

Contact us for Delivery Charges
Need Affordable Installation?
For our Adelaide customers, Vision Hifi offers a range of affordable installation services for your home or office. Discover our Installation Services .
Buy this Product
---
Contact us for Delivery
This product is each.
Order this product by calling us on 1300 721 480.
Vision Hifi is an Authorized Reseller. Order this product by calling us on 1300 721 480.


Product Details
X-HPA - Overview
Note: Not available in all countries
Years of experience in making high quality headphone amps have been distilled into the design of the MX-HPA. As a result, this fully-balanced headphone amp offers an awe-inspiring listening experience.
The MX-HPA's technical performance is stunning. Typically, distortion from 20 Hz to 40 kHz is less than 0.005%. Signal-to-noise ratio is better than 120dB ('A' weighted). Frequency response is ruler flat from 10 Hz to 20 kHz (-0.1dB).
The MX-HPA is capable of a short-term peak of 10 watts (for one cycle) and has two gain positions: 18dB (8X) and 24dB (15X). Inputs are either balanced or single-ended. The MX-HPA will automatically convert single-ended inputs to balanced. The MX-HPA is genuinely fully balanced from beginning to end.
MX-HPA In Brief
Fully balanced, studio design, purist headphone amplifier
Incredible technical performance
Will drive any headphone with ease
Wide bandwidth: 10Hz-40kHz at +0, -3dB
Very low noise
Very low distortion: < 0.003%, 20Hz to 20kHz
Outstanding channel separation
Powerful, muscular, output into 32 ohms
Beautiful aesthetics and build quality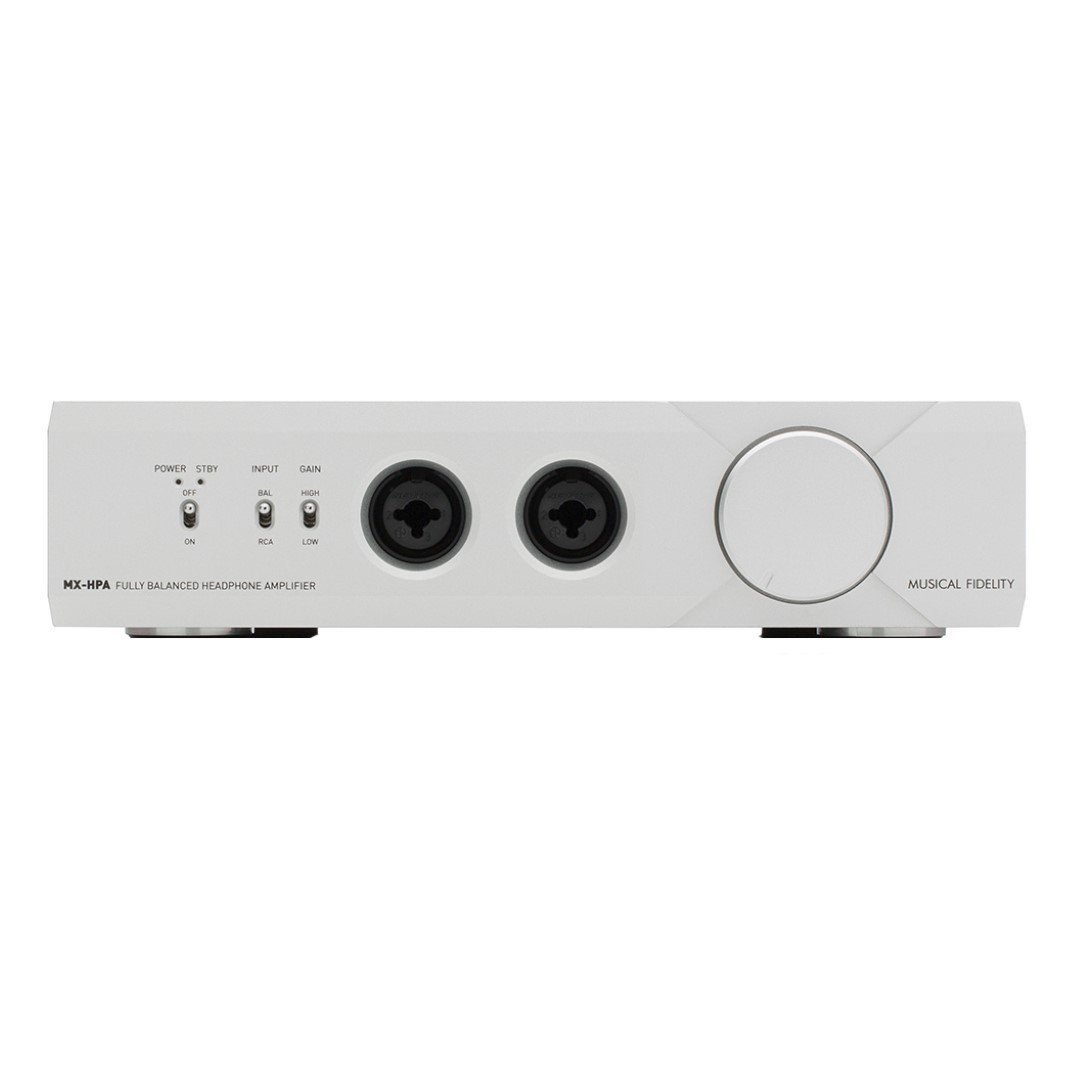 MX-HPA - Specifications
Output
Power 1.8 Watts per channel into 8 Ohms (27dBW)
Maximum output voltage 19 Volts RMS, 20Hz to 20 kHz
Onset of clipping (54 Volts peak-to-peak) balanced
Line input
THD+N >0.005% typical, 20Hz to 20 kHz
Signal / noise ratio >120dB 'A'-weighted
Input impedance 50k Ohms
Frequency response +0, ?0.1dB, 10Hz to 20 kHz
Gain, LO position (volume max) 18db (8x)
Gain, HI position (volume max) 24dB (15x)
Connections
Line level inputs
1 pair line level XLR (balanced) connectors
1 pairs line level RCA connectors
Headphone outputs
1 pair 3-pin XLR/¼" stereo Jack combined sockets
Power requirement
Mains voltages 90-250VAC 50-60Hz universal worldwide supply
Consumption >0.25 Watts standby (Orange LED lit)
15 Watts maximum (Blue LED lit, full power output)
General
Dimensions - WxHxD (mm): 220 (82/3") x 53 (2") x 240 mm (9½")
Weight (unpacked / packed): 2.2 kg (5 lbs) / 3.7 kg (8¼ lbs)
Send us an enquiry
Talk to an Expert
Our Vision Hifi staff members are available to discuss our products and your requirements. Contact us today for assistance.
Contact Details
1300 721 480

Vision Hifi
327 Goodwood Road
Kings Park SA 5034