Musical Fidelity M2s CD Player
... is a serious Hi-Fi player to match the affordable M2si Integrated Amplifier... (More information)
Availability:

Call to Buy

Categories:

Sub-categories:

Brand:

Delivery:

Contact us for Delivery Charges
Need Affordable Installation?
For our Adelaide customers, Vision Hifi offers a range of affordable installation services for your home or office. Discover our Installation Services .
Buy this Product
---
Contact us for Delivery
This product is each.
Available colours:
Order this product by calling us on 1300 721 480.
Vision Hifi is an Authorized Reseller. Order this product by calling us on 1300 721 480.


Product Details
Musical Fidelity - M2s CD Player

.. offers the fine fit and finish of the matching M2si Integrated Amplifier, thanks to the technologie within the casework the M2s CD player exceeds expectations.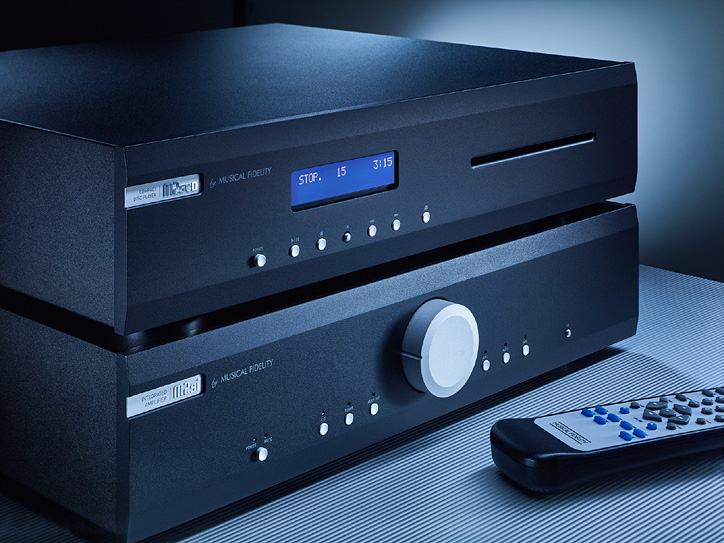 Click here to view the Musical Fidelity - M2si Amplifier (sold separately).

The M2s CD builds on our years of engineering expertise, uniquely featuring both a mains choke filter and a high-tech digital stream noise filter.
Such innovations enable the player to deliver technical performance; it boasts low distortion and a virtually flat frequency response with minimal noise and jitter.
The M2scd's DAC design also draws from its high-end siblings; using cutting-edge technology to ensure excellent data recovery from your discs.
Simply put - you'll hear more from your music.

Musical Fidelity - M2s CD - Specifics:
Output:

Output impedance: 50 ohms
Output, digital 0dB level: RCA output - 2.2V r.m.s. nominal

DAC:
DAC circuit: 24-bit Delta-Sigma (bit stream) dual differential 8x over-sampling
Total correlated jitter: <135 picoseconds peak to peak
Linearity: <0.1dB down to -96dB
Frequency response: 10Hz to 20 kHz -0.2dB max.
Channel separation: >105dB 20 Hz to 20 kHz
Signal-to-noise ratio: >117dB "a" weighted.
Total harmonic distortion: <0.003% 10Hz to 20 kHz

Connections:

Line level outputs: 1 pair line level RCA connectors, left and right outputs
Digital outputs: 1 RCA coaxial connector SPDIF, 1 TOSLINK optical connector

Power Requirement:

Mains voltages 115/230VAC 50/60Hz (factory pre-set)
100VAC 50/60Hz (alternative)
Consumption 20 Watts maximum

Weight:
Unit only, unboxed: 6.65kg
In shipping carton: 10.5 kg
Dimensions:
Wide: 440 mm
High: including feet 100 mm
Deep: (front to back) including terminals 375 mm
Musical Fidelity - M2s CD - Printable User Manual
Contact Vision Living

Email:
Phone:
1300 721 480 or (08) 8272 8546
Address:
327 Goodwood Road Kings Park SA 5034
Send us an enquiry
Talk to an Expert
Our Vision Hifi staff members are available to discuss our products and your requirements. Contact us today for assistance.
Contact Details
1300 721 480

Vision Hifi
327 Goodwood Road
Kings Park SA 5034