Musical Fidelity M8xi - Stereo Integrated Amplifier
The M8xi is a Super Integrated Amplifier. (More information)
Availability:

Call to Buy

Categories:

Sub-categories:

Brand:

Delivery:

Contact us for Delivery Charges
Need Affordable Installation?
For our Adelaide customers, Vision Hifi offers a range of affordable installation services for your home or office. Discover our Installation Services .
Buy this Product
Your Price

$13,800

(each)

---
Contact us for Delivery
This product is each.
Available colours:
Order this product by calling us on 1300 721 480.
Vision Hifi is an Authorized Reseller. Order this product by calling us on 1300 721 480.


Product Details
Musical Fidelity - M8xi Integrated Amplifier...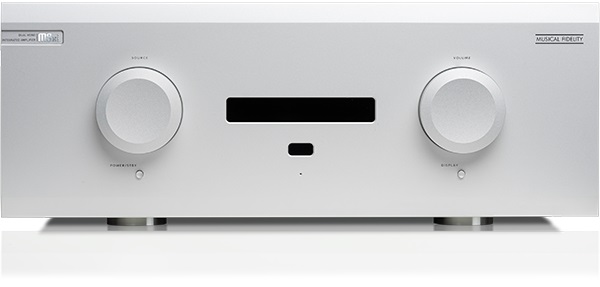 M8xi - Overview...

In 1990, Musical Fidelity made the first-ever Super Integrated amplifier: theA1000. lt received a rapturous welcome and, even today, second hand, is sellingat high prices. The A1000 was the first of a long line of Super IntegratedAmplifiers from Musical Fidelity. Its children: the NuVista M3, Tri Vista 300,kW500, M6/500i, NuVista 800 and NuVista 600 all were equally enthusiasticallywelcomed to the audiophile world. The M8xi is the latest and the best of thebreed.
General Description...
The M8xi is a separate preamp with two monobloc power amps sharing a commonchassis. Each has its own heat sink and separate transformer. Genuinely dualmono. The preamp has its own separate power supply and is mounted close to theinput sockets. Consequently, PCB tracks are very short. This elegant ideaensures that both channels' signals are ultra-low impedance the instant theyget into the amplifier. This is a significant detail. Each channel has twelvebig bipolar transistors - 200 amps peak to peak is easily available. Themetalwork is high quality. The front panel is a custom-made fine line extrusionof milspec aluminum. The custom-made heat sinks have outstanding dissipationcharacteristics and finish. The M8xi construction has a feeling of solidity andquality.



New Circuitry...


Over the last 5 years our power amp circuitry has reached a high state ofdevelopment. In our never-ending quest for improving performance and customervalue we have been looking for ways to improve our designs. One of the primedirectives was to keep the low feedback configuration unchanged .. continuewith low feedback! The problem was how to improve efficiency and performancewithout affecting the sound quality. If I say so myself, I think we have comeup with a brilliant solution. Our new M8xi power amp design gives higher power,lower distortion, and better sound quality. Incredible but true. The outputstage efficiency has been increased thus yielding about 10% more power forsimilar power supply voltage. More importantly, the whole driver stage is pureClass A. We believe that this innovative approach has a substantial effect onthe sound quality. The sound stage appears wider whilst the micro and macrodynamics have more impact. This effect is particularly noticeable onwell-recorded piano. I am sure you all know the piano is a percussiveinstrument but in truth, this is rarely audible on most Hi-Fi systems. Using anM8xi, a piano's percussive nature becomes instantly obvious and jumps out ofthe loudspeaker. It is a surprising and satisfying improvement to the soundquality. Vocals have more subtly, detail and presence. Large scale music hasdepth, width, and incredibly dynamic presentation. All in all, the M8xi is aconsummate all-rounder. Mostly it sounds like a small Class A amplifier withhuge power.
The DAC...
The M8xi also features a 5 input DAC. DACs are increasingly common inintegrated amplifier designs to add convenience when connecting a variety ofdigital sources, so the decision was taken to build-in a DAC that would performto a high standard, independently of the amplifier. For added integrity, theDAC features its own power supply. Based around the Texas Instruments PCM5242TI low-distortion and low-noise DAC chip, which is also employed in many otherpremium products in the hi-fi industry as well as in previous Musical Fidelityproducts, the M8xi has 2 x coaxial (S/PDIF), 2 x optical (S/PDIF) and 1 xasynchronous USB Type-B inputs. The coaxial and the USB inputs can supporthi-res audio streams up-to 24-bit / 192kHz, and the optical input can supportup-to 24-bit / 96kHz. For maximal performance, all data streams are up sampledand re-clocked by an internal converter to reduce jitter and remove unwantedartifacts in the sound.
Technical Performance...
The M8xi delivers 550 + 550wpc into 8 ohms. It is extremely stable and verylinear. The distortion is low too; lower than 0.005% in the audible frequencyrange of 20 Hz to 20 kHz. The M8xi has remarkable linearity and consistency. Itis unconditionally stable and will drive any loudspeaker in existence easilywith ample power reserve.
Our Approach to Technical Measurements...
In our view an amplifier should be completely neutral. Easy to say but complexto do. We want to stress that we do not believe that the technical performanceis an end in itself. It is a method of validating the total amplifier systemconcept. The aim of our circuit/PCB designs is to have low feedback and achievecomplete neutrality, transparency, and great technical performance. The proofthat we are on the right track is the technical performance. We think thattechnical performance cannot be summed up by the distortion at 1 kHz. Our viewis that an amplifier must be able to satisfy a wide range of technicalrequirements before it can be neutral.

Linearity...
Almost all loudspeakers have complex impedance and loading curves. An amplifiermust be able to maintain its voltage virtually, regardless of loading. If anamplifier cannot maintain its voltage across the spectrum, then the ultimatefrequency response and distortion will be nonlinear. This is not neutrality.
Distortion...
The overwhelming majority of amplifier manufacturers only talk about distortionat 1 kHz. We believe that this is only a fraction of the story. From ourperspective, an amplifier must have very low distortion from 20 Hz- 20 kHz andbeyond. We believe that an amplifier's high-frequency performance proves thetotal performance of the circuit and PCB layout. The M8xi distortion hardlychanges from 10 kHz to 50 kHz. An outstanding achievement and validation of thecircuit design and PCB layout.

Noise Ratio...
Amplifiers should be quiet. If they are not, low-level detail is irretrievablylost. Also, the dynamic range is seriously compromised. Dynamic range is notjust how much power an amplifier will produce, it is also how quiet it can be.Dynamic range is the total from the quietest to the loudest. The M8xi excels inthis respect.
Precision Volume Control...
The M8xi has a precision volume control. This ensures perfect tracking rightdown to very low levels which is unattainable with standard potentiometers.This outstanding precision is achieved by laser-trimmed substrate resistors.

Sound Quality...
The M8xi is effortless, fluid, and dynamic. It doesn't sound loud, it justsounds right. The dynamics are handled with no drama or fuss. They come andthey go. There is no distortion, just pure undiluted music. It sounds like asuperb small Class A amplifier but with limitless headroom. Perfection!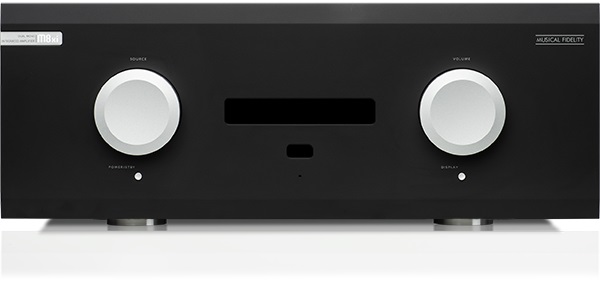 Musical Fidelity - M8xi - Printable Information Sheet

M8xi - Specifications
Amplifier
Power Output (20Hz - 20kHz): 550 Watts per channel into 8 Ohms (870W into 4 Ohms); Peak 1.6kW into 2 Ohms
Maximum output voltage: 67 Volts RMS, 20Hz to 20 kHz; onset of clipping (190 Volts peak-to-peak)
THD+N: <0.004% typical, 20Hz to 20 kHz (XLR)
Signal/noise ratio: > 86dB A-weighted (XLR)
Input impedance: 25Kohm (RCA), 50Kohm (XLR)
Frequency response: +0, -1dB, 10Hz to 100 kHz
Maximum peak output current: 105 Amps
Damping factor: 150
Output devices: 3+3 pairs (bridged arrangement) per channel
Inputs (analogue)
4 pairs line level RCA connectors
2 pairs line level XLR (balanced) connectors
Inputs (digital)
2x Coax S/PDIF up to 24 bit 192kHz
2x Optical S/PDIF up to 24 bit 96kHz
1x USB B Asynchronous USB up to 24 bit 192kHz
Outputs (analogue)
1 pair line level RCA fixed
1 pair pre-out RCA variable
1 pair line level XLR variable
Outputs (digital)
1x Coax S/PDIF up to 24 bit 192kHz
1x Optical S/PDIF up to 24 bit 96kHz
General
Dimensions (WxHxD): 485 x 185 x 510mm
Max. Consumption: 2000Watts
Send us an enquiry
Talk to an Expert
Our Vision Hifi staff members are available to discuss our products and your requirements. Contact us today for assistance.
Contact Details
1300 721 480

Vision Hifi
327 Goodwood Road
Kings Park SA 5034