NAD D3020 Hybrid Digital Amplifier
NAD D3020: hybrid digital amplifier (More information)
Availability:

Call to Buy

Categories:

Sub-categories:

Brand:

Delivery:

Contact us for Delivery Charges
Need Affordable Installation?
For our Adelaide customers, Vision Hifi offers a range of affordable installation services for your home or office. Discover our Installation Services .
Buy this Product
---
Contact us for Delivery
This product is each.
Order this product by calling us on 1300 721 480.
Vision Hifi is an Authorized Reseller. Order this product by calling us on 1300 721 480.


Product Details


REINVENTING AN ICON, the D 3020
The original NAD 3020 introduced a generation of Music Lovers to true high fidelity sound. The term High Fidelity literally means ?true to the original". In the '70's over a million people rediscovered their music when they placed a NAD 3020 between their turntable and their loudspeakers. This little gem could embarrass amplifiers costing 10 times more with its big, warm and detailed sound. Once people realized what they had been missing it lead them to a lifetime of enhanced musical enjoyment.
REAL WORLD PERFORMANCE
NAD rewrote the rules for amplifiers by designing the 3020 for the real world; instead of allowing laboratory test equipment to have the last word, we made sure that we could properly drive real loudspeakers with real music. The result of this real world approach was an amplifier that had less cost and more sound.
Today the source is more likely to be a computer or a smart phone then a turntable, but the ability to choose speakers that perfectly suit your taste is still a compelling argument for upgrading to a NAD amplifier. The D 3020 stars with the original NAD concept and takes it straight to the 21st century using the latest high speed digital technology.
CONNECT ALL YOUR DIGITAL DEVICES
There are inputs for your computer and for other digital and analog sources. The USB input uses 'asynchrounous' mode to insure the lowest possible jitter (timing errors) from notoriously unstable computer audio outputs and supports 24/96 HD studio master music files. Coaxial and optical inputs allow many different digital sources to be connected, from CD and DVD disc players, to set top boxes like AppleTV or satellite and cable receivers. There are also analog inputs for iPods and older non-digital audio components like FM tuners.
The D 3020, with its wireless Bluetooth capability, can stream music from smartphones, tablets and laptops and even supports the highest audio quality Bluetooth aptX that is becoming more and more popular for its excellent sound quality and low power consumption compared to Wi-Fi.
POWER THAT REALLY DELIVERS
Power output may sound small at 30 watts per channel, but like all NAD amplifiers this can be very misleading as a properly designed 30W amplifier can often sound superior to a 100W amplifier from a lesser brand. More important, the D 3020 can drive real loudspeakers to satisfying levels without adding noise or distortion. It's highly efficient design wastes less energy resulting in cool running and longer life. Standby power consumption is <0.5W.
Supplied with an IR Remote Control for convenience, the D 3020 is at home on a desk top, a book shelf or cabinet. But it deserves to sit on a pedestal for its incredible performance and affordable price!
D 3020 Hybrid Digital? Amplifier
2 x 30W @ 0.00% THD, >100W Dynamic Power @ 4 Ohms
aptX Bluetooth Music Streaming
Supports bit rate/sample rate up to - 24/192 (via Digital Audio input) up to 24/96 (via USB input)
Optical and Coaxial Digital Inputs, analog inputs
Subwoofer Output
Bass EQ setting
Separate Headphone Amplifier
Wireless Remote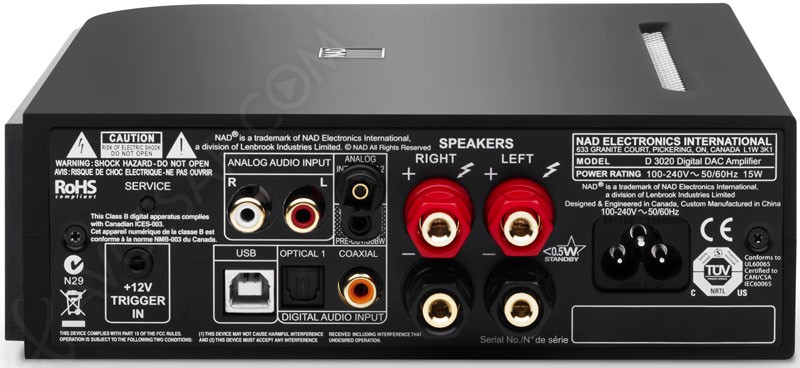 Send us an enquiry
Talk to an Expert
Our Vision Hifi staff members are available to discuss our products and your requirements. Contact us today for assistance.
Contact Details
1300 721 480

Vision Hifi
327 Goodwood Road
Kings Park SA 5034