Project Debut Carbon Esprit SB (DC) with Ortofon 2M red cartridge.
Audiophile "best buy" 3-speed turntable (More information)
Availability:

Call to Buy

Categories:

Sub-categories:

Brand:

Delivery:

FREE Delivery Australia Wide
Need Affordable Installation?
For our Adelaide customers, Vision Hifi offers a range of affordable installation services for your home or office. Discover our Installation Services .
Buy this Product
---
FREE Delivery Australia Wide
This product is each.
Available colours:
Order this product by calling us on 1300 721 480.
Vision Hifi is an Authorized Reseller. Order this product by calling us on 1300 721 480.


Product Details
Carbon tonearm, 3 speeds and acrylic platter!
The Debut Carbon Esprit SB (DC) brings all the benefits of the Debut Carbon (DC) but adds an electronic speed change and an acrylic platter. It is the perfect turntable to listen to LPs and singles, but also 78 rpm shellac records.
The most obvious improvement is the inclusion of a Carbon tube for the tonearm, which increases stiffness and decreases unwanted resonance. Together with other improvements like an increase in platter size and weight to realize even smoother rotation, the overall sound quality is greatly improved. The approved belt drive design offers a low noise AC motor with effective motor decoupling (utilising TPE-damping) and ultra precision frequency DC-driven AC generator (like the Speed Box) for ultimate speed stability without unwanted vibration. The acrylic platter gives the sound a natural liveliness, free from discoloration and resonance. There is no longer a need for a felt mat between the record and the platter. The included Phono RCA cable, Connect it E, is a high-quality semi-balanced interconnect cable with gold-plated RCA connectors that guarantees the perfect connection.
In the box:
Debut Carbon Esprit SB (DC) with Ortofon 2M red
Power supply
Dust cover
Adapter for 7? singles
Connect it E RCA
Not included: Ortofon 2M stylus for 78 playback.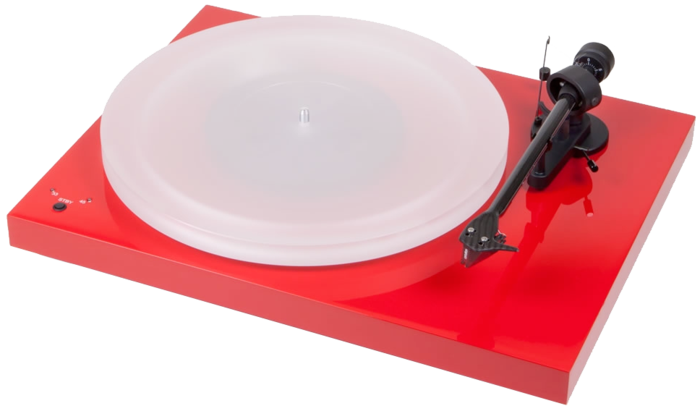 Send us an enquiry
Talk to an Expert
Our Vision Hifi staff members are available to discuss our products and your requirements. Contact us today for assistance.
Contact Details
1300 721 480

Vision Hifi
327 Goodwood Road
Kings Park SA 5034