Yamaha CD-S303: Component CD Player
...Inheriting many of the sound quality features of the high end CD player components, the CD-S303 CD player delivers sound that will satisfy devoted music fans. In addition to CDs, it also provides high-quality play of music files stored on USB memory devices via a USB port on the front panel. (More information)
Availability:

Call to Buy

Categories:

Sub-categories:

Brand:

Delivery:

Contact us for Delivery Charges
Need Affordable Installation?
For our Adelaide customers, Vision Hifi offers a range of affordable installation services for your home or office. Discover our Installation Services .
Buy this Product
---
Contact us for Delivery
Available colours:
Order this product by calling us on 1300 721 480.
Vision Hifi is an Authorized Reseller. Order this product by calling us on 1300 721 480.


Product Details
Yamaha CD-S303: Component CD Player...

...each of the individual elements in a CD player influences the sound quality, which is why Yamaha puts a great deal of effort into the selection and matching of parts and materials. A high-grade acoustic capacitor, a new low-noise, high-gain bandwidth op amp and the use of damping material under the transformer and around the signal cables are just a few examples of the Yamaha commitment to great sound quality. In short, the CD-S303's internal sophistication is on a level generally found on much more expensive models.
Utilizing a 192 kHz/24-bit DAC, the high-performance D/A conversion system takes full advantage of the digital technology refined by Yamaha over a period of many years, ensuring excellent conversion precision, S/N ratio and dynamic range.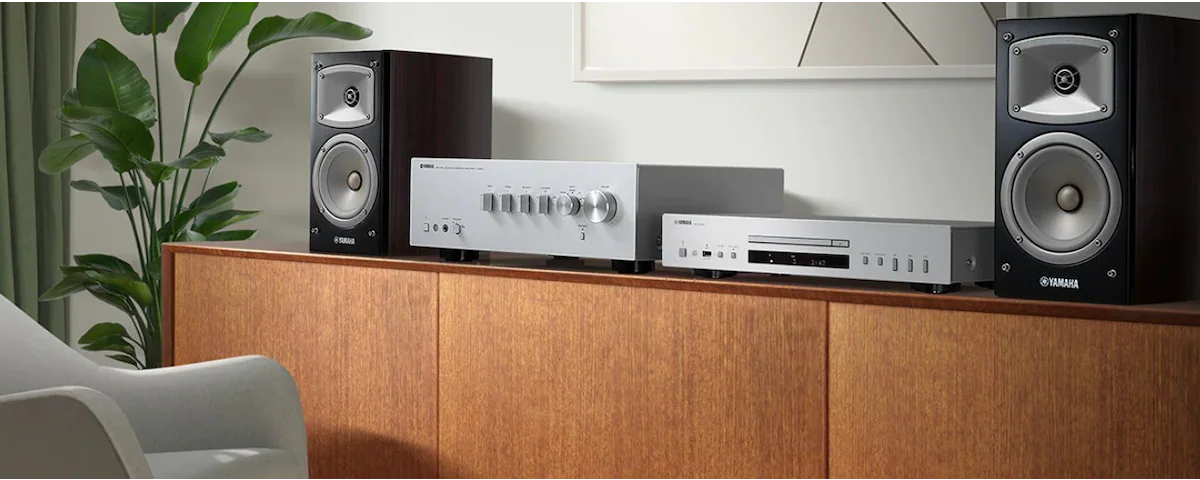 (Speakers and Yamaha A-S701 Amp sold separately)

Yamaha technicians devoted a great deal of time and effort to designing the overall interior layout of parts and circuit boards, a factor that significantly affects sound quality. As a result, the power supplies for the motor drive, display and USB sections, as well as the digital, and analog sections are individually isolated, eliminating electromagnetic interference among them. To achieve ideal weight balance for stable performance, the drive mechanism is located in the center of the unit.

Yamaha CD-S303 CD Player Specifics:
Single Disc, CD, CD-R/RW
105 Signal-to-Noise Ratio
96dB Dynamic Range
0.003% THD (CD)
2Hz - 20kHz Frequency Response
Digital Optical, Digital Coaxial, Analogue RCA ouput
435 x 86 x 260 (W x H x Dmm)
USB input (front panel)
Pure Direct
Extremely sophisticated circuitry and layout
Short signal paths
High-quality parts
High-performance DAC for high conversion precision with low noise
Laser pickup floating mechanism
Intelligent Digital Servo
MP3, WMA, LPCM and FLAC compatibility
CD-R/RW disc playback compatibility
10-Key direct track and direct access
Random play
Repeat play (full/single)
3-Mode time display
4 Illumination levels
Last track resume
Ready Mode
Play mode memory
Numerous convenient playback functions
Send us an enquiry
Talk to an Expert
Our Vision Hifi staff members are available to discuss our products and your requirements. Contact us today for assistance.
Contact Details
1300 721 480

Vision Hifi
327 Goodwood Road
Kings Park SA 5034