Integra DRX-4.3B 7.2 Network THX AV Receiver
This state-of-the-art powerhouse is engineered to share any audio source throughout the home. (More information)
Availability:

Discontinued

Categories:

Sub-categories:

Brand:

Delivery:

FREE Delivery Australia Wide
Need Affordable Installation?
For our Adelaide customers, Vision Hifi offers a range of affordable installation services for your home or office. Discover our Installation Services .
Buy this Product
---
FREE Delivery Australia Wide
This product is each.
This product is currently unavailable to order.


Product Details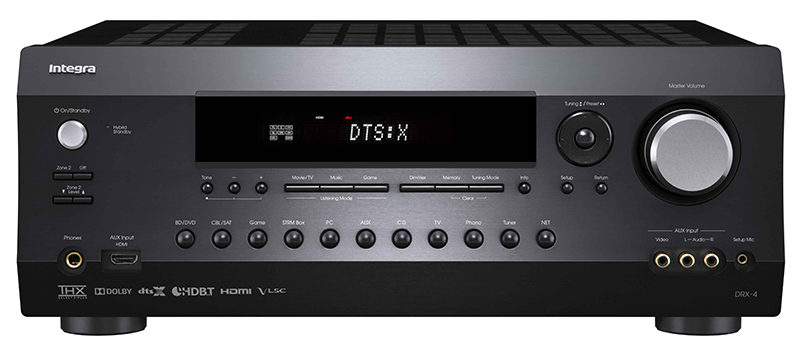 ---
Integra Power
The DRX-4 amplifies accurate, noise-free signal processing with high-current power for dynamic speaker control. The result is pure, rich and authentic sound. Integra's dynamic audio amplification delivers 110 Watts per channel (8 Ohms, 20 Hz?20 kHz, 0.08% THD, 2 Channels Driven) with 35 amps of high instantaneous current capability.
---
THX-Certified
The DRX-4 is certified Select2 Plus by THX. THX spends 40-60 hours testing over 2000 data points ensuring that the DRX-4 is capable of meeting rigorous audio and video performance standards for reference level, distortion free playback and includes THX Loudness Plus technology to bring out intricate details at lower listening levels.
---
Smooth Analog Signal
Vector Linear Shaping Circuitry (VLSC) removes pulse noise generated in D/A conversion and allows the sound wave to be reproduced with extremely high fidelity for a smooth analog signal. This is applied to the front left and right channels, which are also bi-ampable.
---
Flexible Zone 2
The DRX-4 features Powered Zone 2 with A/B speaker selection to bring audio to speakers connected to the receiver into a second room or third room. Zone 2 Pre/Line Out can be used with an outboard amp, and a Zone 2 DAC for HDMI Inputs 1 through 3, Coax and Optical Inputs (2-CH PCM), Network (including Pandora and Spotify), and USB audio sources. There are also maximum power and power on volume settings for the Main Zone, Zone 2 as well as bass/treble and balance controls to further customize your listening experience and help get the best performance out of your speakers.
---
HDBaseT Port for Multimedia Distribution
HDBaseT transmitts audio and video signals clearly up to 328 feet utilizing cat5e/cat6 cable to any certified third party HDBaseT receiver or device that has its own power supply. This makes long distance runs to projectors or a second zone easy and reliable.
---
Object-Based Sound Up to 5.1.2 Channels
Supports Dolby Atmos and DTS:X* for an immersive three-dimensional sound-space.

Additionally, the Dolby surround up-mixer processes content not mixed for Dolby Atmos to fill the flexible speaker layouts of a Dolby Atmos system.

Learn More About Dolby Atmos

Learn More About DTS:X


---
UltraHD / HDR Connectivity
The DRX-4's HDMI specifications and HDCP 2.2 compatibility support the latest formats being released by Hollywood. The latest HDMI specs offer a significant increase in bandwidth (up to 18Gbps) to for full UltraHD support of features such as 4:4:4 color space and 4K@50/60 (2160p), which is 4 times the clarity of 1080p/60 video resolution. The DRX-4 enables transmission of High Dynamic Range (HDR) formats, with BT.2020 support, and provides enhanced picture quality by simultaneously enabling greater detail for both the dark and bright parts of an image.

The DRX-4 also effortlessly upscales 1080p video to stunning 4k UltraHD.
---
Stream It Easy
The DRX-4 has Google Cast for Audio and Airplay technologies built in. Stream virtually any audio from a smartphone, tablet or PC to your home theater for powerful sound.

With Spotify, Pandora, Deezer and TuneIn built-in, you can select a station and search for music available on these services via the Integra Control Pro app on your phone. The free Integra Control Pro app puts a range of streaming options at your fingertips, from universal hi-res audio via network-attached devices to internet streaming services to music on your smartphone and tablet. Google Cast for Audio will be operable with an upcoming firmware update.
---
App Control
The Integra Control Pro app for iPod touch®/iPhone,® Android, and Kindle devices is a convenient way to control your home entertainment from anywhere within wireless range. The app has a clear graphical interface to control playback, adjust settings and handle content across multiple zones. The app serves hi-res, lossless, and compressed audio files (including 192 kHz/24-bit FLAC, DSD, and Dolby® TrueHD) to the DRX-4 from your mobile devices, and gives it stunning sound.


? ?
? ?
? ?
---
384 kHz/32-bit Hi-Grade DAC
No matter what you're listening to, it will sound powerfully full, clean and clear. A premium-quality AK4458 digital-to-analog converter from Asahi Kasei implements unique low-distortion filtering technologies for clear sound, and unlocks the full potential of any audio format, including compressed, lossless, and hi-res audio (MQA, MP3, WMA, WMA Lossless, FLAC, WAV, AAC, Apple Lossless, AIFF, DSD 11.2 MHz, and Dolby TrueHD).
---
Integra's Original Approach to Room Correction
AccuEQ conducts two measurements- one to set the level, distance and crossover for ALL speakers, including the subwoofer. Choose to include or bypass EQ measurement for front left and right speakers, and choose to automatically or manually set the EQ. Further, you can save your own manual EQ settings into three available presets.

The new AccuReflex technology aligns the phase of upfiring "height" speakers with the sound coming directly from your other speakers. Any delay is resolved so that everything arrives at your ears at the same time. The result is cohesive reproduction of object-based soundtracks.

Learn more
---
Perfect for Custom Installation
Integra products are designed and engineered to meet the demands of custom audio/video systems installers. Besides Dealer Settings Memory Store and Recall with Lock / Unlock and PC Software Support, the DRX-4 includes system integration connectivity such as RS232 and IP control with support for 2-way communication with 3rd party home automation systems. A pair of infrared (IR) inputs and an IR output make for a clean, reliable installation and allow pass-through of IR signals to control other devices connected to the DRX-4, such as a TV or Blu-ray player. Three fully programmable 12 volt triggers can be used to raise/lower a projection screen, power on/off an external amplifier and open/close the drapes all with the touch of a button. Optional rack mount kits for all models provide a clean, finished look when installed in racks and cabinets, especially with the unit's aluminum faceplate. Integra works closely with control systems partners such as Savant, Crestron, URC, RTI, and Ihiji and supports Control4 Simple Device Discovery Protocol (SDDP) and AMX Device Discovery for simplified system integration.




?Note: Support for Google Cast?, FireConnect? and MQA functionality will be enabled on these receivers following future firmware updates.
Send us an enquiry
Talk to an Expert
Our Vision Hifi staff members are available to discuss our products and your requirements. Contact us today for assistance.
Contact Details
1300 721 480

Vision Hifi
327 Goodwood Road
Kings Park SA 5034