JVC DLA-N7 Projector - NO LONGER AVAILABLE FOR ORDER
JVC DLA-N7 4K D-ILA Projector (More information)
Availability:

Discontinued

Categories:

Sub-categories:

Brand:

Delivery:

Contact us for Delivery Charges
Need Affordable Installation?
For our Adelaide customers, Vision Hifi offers a range of affordable installation services for your home or office. Discover our Installation Services .
Buy this Product
Your Price

$11,999

(each)

---
Contact us for Delivery
This product is each.
This price is only available online.
This product is currently unavailable to order.


Product Details
JVC DLA-NX7 D-ILA projector is wrapped in a whole newdesign, which is packed with the latest projection features.
For instance withthe new 0.69-inch native 4K D-ILA device, the projector can producehigh-definition native 4K resolution (4096 x 2160) images from its all-glass 65mm diameter lens system.
HDR10 content can be projected at optimum quality withAuto Tone Mapping function, and the new Frame Adapt HDR function, whichanalyzes HDR10 content frame-by-frame and automatically performs frameadjustment for optimal image projection.
Combining brightness of 1,900 lm,dynamic contrast ratio of 800,000:1, and 18-bit equivalent gamma accuracy forsmooth gradation, the projector reproduces life-like images close to reality aswe perceive with our eyes.
Renewed Clear Motion Drive together with MotionEnhance, which optimizes the D-ILA driving device according to image movement,significantly reduce blur compared to other projectors
JVC Australia - DLA-N7 Product Page LINK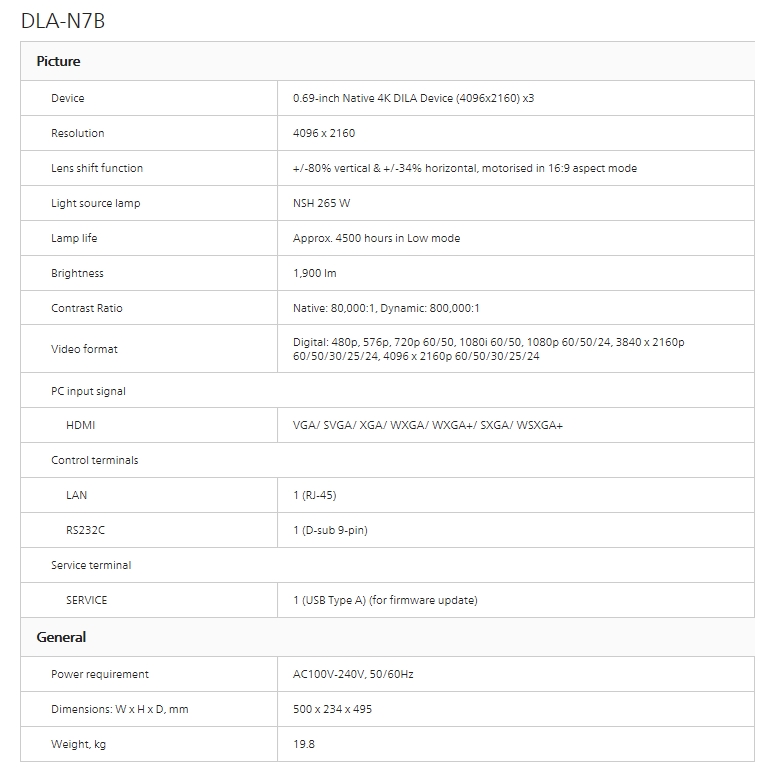 Send us an enquiry
Talk to an Expert
Our Vision Hifi staff members are available to discuss our products and your requirements. Contact us today for assistance.
Contact Details
1300 721 480

Vision Hifi
327 Goodwood Road
Kings Park SA 5034