NAD T 778 AV Surround Receiver
NAD's reference Audio Video Receiver (AVR) is a cutting-edge powerhouse for state of the art music and home theater. Well known for our high value/ high performance reputation in the AVR category, the brand's reference model builds on that legacy with an expansion of unwavering philosophy of real-world performance, simplicity of operation, and future upgradeability. (More information)
Availability:

Call to Buy

Categories:

Sub-categories:

Brand:

Delivery:

Contact us for Delivery Charges
Need Affordable Installation?
For our Adelaide customers, Vision Hifi offers a range of affordable installation services for your home or office. Discover our Installation Services .
Buy this Product
---
Contact us for Delivery
Order this product by calling us on 1300 721 480.
Vision Hifi is an Authorized Reseller. Order this product by calling us on 1300 721 480.


Product Details
Introducing the T 778 A/V Surround Amplifier
BluOSEnabled 4K Ultra HD Receiver with Immersive Sound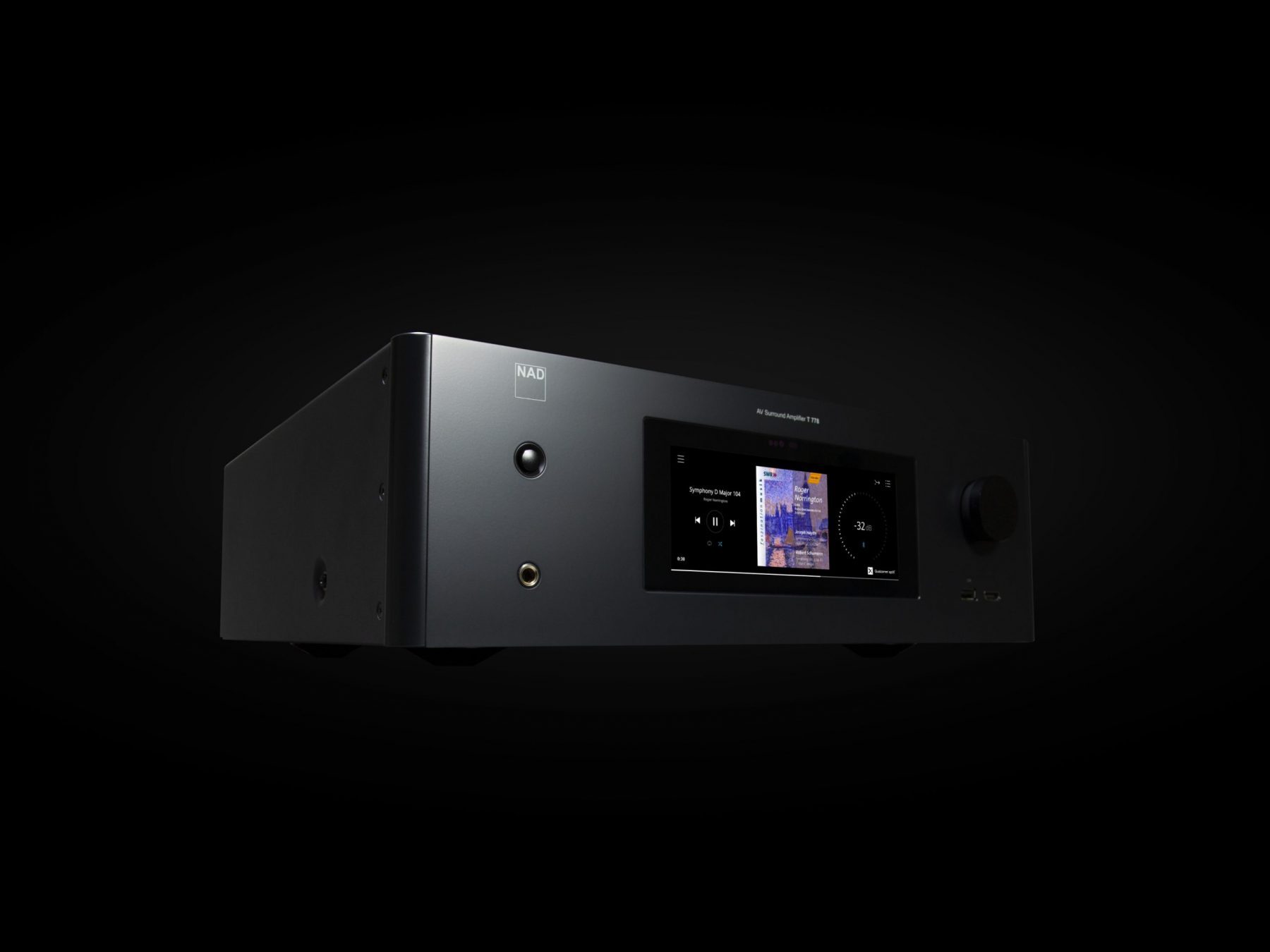 NAD's reference Audio Video Receiver (AVR) is a cutting-edge powerhouse for state-of-the-art music and home theatre. Well known for our high value/ high performance reputation in the AVR category, the brand's reference model builds on that legacy with an expansion of unwavering philosophy of real-world performance,simplicity of operation, and future upgradeability.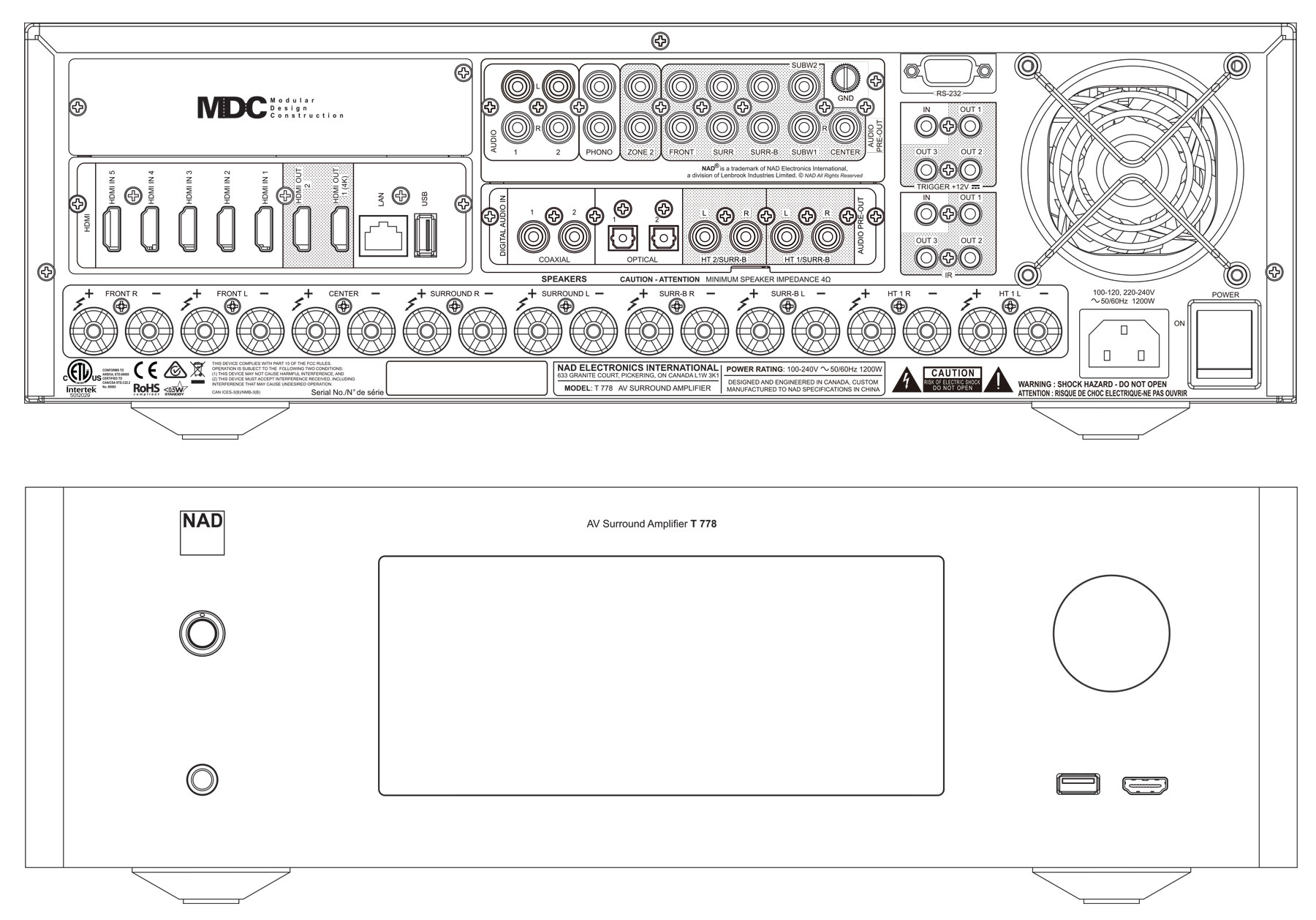 Efficient Distortion-free Amplification
The T 778 features the latest developments in NAD's Hybrid Digital technology to create 9 high current/high power channels of amplification with improved efficiency. Designed with NAD's full disclosure approach to power ratings, the NAD AVR conservatively delivers 85W FDP and 9 x 140W FTC, all channels driven at rated distortion. For flexibility, the amp channels are configurable to be used for surround or second zone audio. The silent black background and explosive dynamics afforded by this amplifier technology adds lifelike realism, drama and excitement to all your music and movies.
Fully Featured Surround
The T 778 is second-to-none in terms of flexibility and up-to-the-minute digital technology.Only NAD offers Modular Design Construction (MDC), the company's proven method for preventing premature obsolescence. 7.1.4 Dolby Atmos, DTS Master Audio combine with Dirac Live room correction to deliver hyper-realism that captures every dimension of a performance. Add bit-perfect 4K UHD video pass-through and the T 778 delivers the most accurate sound and image experience you've ever had. Musical performance is outstanding with High Res Multi-room streaming via BluOS.
Complete and Compact
As with all NAD components, the company's latest offering continues their 'simple is better' design philosophy. This sensible approach contributes to ease of use and maximizes performance where it counts. A perfect example is the striking new touch screen and ergonomic refinements that simplify operation and ease of access. The T 778 features NAD's legendary sound quality along with complete compatibility with all the latest features and formats to ensure lifelike music and movie enjoyment.
Key Features of the NAD T 778:
9 channels of NAD's latest Hybrid Digital Amplifier Technology
New touch screen and improved ergonomics for user-friendly operation
4K UHD video pass-through
HDMI CEC/eARC
High-Res BluOS enabled Network Streaming
Dirac Live Room Correction
Full decoding of MQA content via BluOS.
Apple AirPlay 2
MDC (Modular Design Construction) offers ability to upgrade to future digital formats as they become available. Two MDC slots provided.
CI friendly- RS232 Serial Control Port. Trigger In/Out.
IR In with learning function
*Note: The T 778will include a license for Dirac Live with the option for advanced users to upgrade to a Pro version. Firmware version 2.12.9 or later is required to enable Dirac Live.
Specifications
FTC Power Output:
8 Ohms 140W (21.5dBW)
4 Ohms 170W (22.3dBW)
9 x 85W Full Disclosure Power (all channels driven simultaneously at full bandwidth at rated distortion)
IHF Dynamic Power:
8 Ohms 165W (22.2dBW)
4 Ohms 280W (24.5dBW)
<0.08% Total harmonic distortion at rated power
<0.03% IM distortion at 1/3 rated power
>300 (20Hz - 1kHz, 8 ohms) Damping factor
1.12Vrms (ref. 8 Ohms, VOL at 0dB) Input sensitivity and impedance
Frequency response
+0.3/-0.8dB (ref. 1 kHz, 20Hz - 20kHz)
Signal/noise ratio
>100dB (ref. rated power at 8 Ohms, A-Weighted)
Signal/noise ratio
>85dB (ref. 1W at 8 Ohms, A-Weighted)
<8W(network standby)
Unit Dimensions (W x H x D) 435 x 140 x 430mm (Gross)*
Net Weight 12.1kg (26.7lb)
Shipping Weight 15.5kg (34.2lb)
*Gross dimensions include feet, extended buttons and rear panel terminals.
Send us an enquiry
Talk to an Expert
Our Vision Hifi staff members are available to discuss our products and your requirements. Contact us today for assistance.
Contact Details
1300 721 480

Vision Hifi
327 Goodwood Road
Kings Park SA 5034