Bowers & Wilkins 704 S2 Floor Stand Speaker Pair
Looks can be deceiving. Despite its slim dimensions, the 704 S2 has the commanding presence of a much larger speaker, thanks to advanced technologies such as a dedicated Continuum cone FST mid-range. (More information)
Availability:

Call to Buy

Categories:

Sub-categories:

Brand:

Delivery:

Contact us for Delivery Charges
Need Affordable Installation?
For our Adelaide customers, Vision Hifi offers a range of affordable installation services for your home or office. Discover our Installation Services .
Buy this Product
Your Price

$3,999

(per pair)

---
Contact us for Delivery
This product is per pair.
Available colours:
Order this product by calling us on 1300 721 480.
Vision Hifi is an Authorized Reseller. Order this product by calling us on 1300 721 480.


Product Details
B&W 704 S2 Floor Stand Speaker Pair

Carbon Dome Tweeter
Carbon Dome tweeters are a brand new technology purpose-built for the 700 Series. Delivering a dramatic improvement on the aluminium double-dome tweeter, they raise the breakup threshold to 47kHz, for pinpoint imaging accuracy and detail.
Continuum Cone

First introduced with the 800 Series Diamond, the Continuum cone represents the biggest step-change in mid-range performance since Kevlar. Its woven, coated material provides highly controlled break-up, resulting in a more open, neutral mid-range.
Decoupled Mid-Range

The mid-range driver in the floor-standers feature a decoupled design, adapted from a similar system in the 800 Series Diamond. Decoupling reduces cabinet colouration, and boosts mid-range clarity.
Aerofoil Profile Bass Cone

Developed using advanced computer modelling techniques, the Aerofoil (TM) Profile bass cone has a variable thickness, providing stiffness and rigidity where it's needed most. The result: deep and dynamic bass.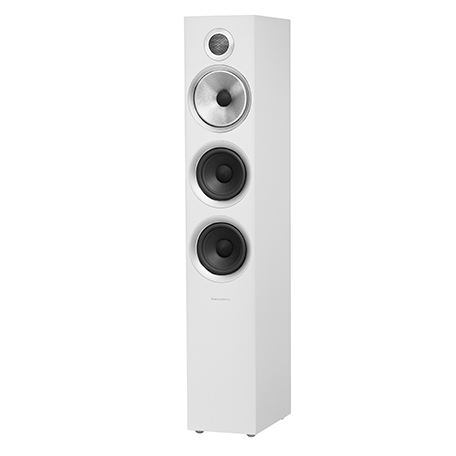 Technical features
Decoupled Carbon Dome tweeter
Continuum cone FST midrange
Decoupled midrange
Aerofoil profile bass cones
Flowport (TM)
Description
3-way vented-box system
Drive units
1 x 25 mm (1 in) Decoupled Carbon Dome high-frequency
1 x 130 mm (5 in) Continuum cone FST mid-range
2x 130mm (5 in) Aerofoil profile bass
Frequency range
-6dB at 43Hz and 33kHz
Frequency response
48Hz - 28kHz +/- 3dB
Sensitivity
88dB spl (2.83Vrms, 1m)
Harmonic distortion
2nd and 3rd harmonics (90dB, 1m)
<1% 100Hz - 22kHz
<0.5% 300Hz - 20kHz
Nominal impedance
8 Ohms (minimum 3.1 Ohms)
Recommended amplifier power
30W - 150W into 8 ohms on un-clipped programme
Dimensions
Height: 925mm (36.4 in) cabinet only
959mm (37.8 in) including plinth
Width: 165mm (6.5 in) cabinet only
252mm (9.9 in) including plinth
Depth: 255mm (10in) cabinet only
277mm (10.9 in) inc. grille and terminals
298mm (11.7 in) inc
Net weight
18.5kg (41 lb)
Finishes Cabinet:
Rosenut
Gloss Black
Satin White
Grille:
Black
Grey (Satin White only)
Send us an enquiry
Talk to an Expert
Our Vision Hifi staff members are available to discuss our products and your requirements. Contact us today for assistance.
Contact Details
1300 721 480

Vision Hifi
327 Goodwood Road
Kings Park SA 5034