Bowers & Wilkins DS3 rear on wall speakers
The DS3 is a wall-mounted surround speaker that can operate in either dipole or mono-pole modes, to create an authentic all-enveloping effect of a large auditorium. (More information)
Availability:

Discontinued

Categories:

Sub-categories:

Brand:

Delivery:

FREE Delivery Australia Wide
Need Affordable Installation?
For our Adelaide customers, Vision Hifi offers a range of affordable installation services for your home or office. Discover our Installation Services .
Buy this Product
Your Price

$1,299

(per pair)

---
FREE Delivery Australia Wide
This product is per pair.
This product is currently unavailable to order.


Product Details
B&W DS3 Surround Speaker

For home theatre installations, choose a pair of rear speakers that can get you closer to the true surround sound of the cinema.

The DS3 is a wall-mounted surround speaker that can operate in what's called 'dipole' mode, to create an authentic all-enveloping effect of a large auditorium. Or you may prefer to switch to conventional 'monopole' operation, in which the sound from side or rear is more precisely located and less diffuse. The choice depends on the room conditions, the size of the audience and the kind of material on view.

Whichever mode you select, the sound quality is superlative, supplied by a 130mm Kevlar cone bass/mid-range, twin mid-range/high frequency units and a B&W Nautilus tube-loaded tweeter.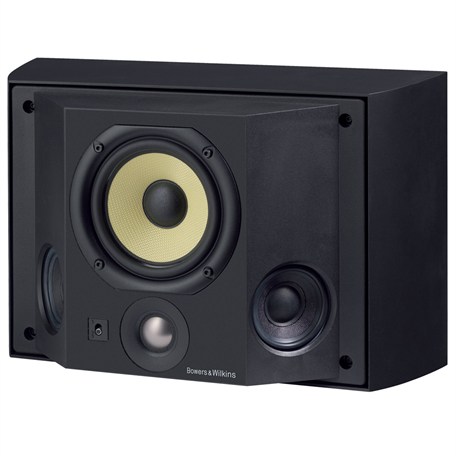 Specifications

1 x 25mm (1") tube-loaded aluminium dome high-frequency
2 x 80mm (3") mid-range/ high frequency
1 x 130mm (5") Kevlar brand fibre cone bass/midrange
Sensitivity: 89dB spl (2.83v/1 metre)
Frequency Response: 85Hz - 22kHz +/- 3dBon reference axis (monopole mode)
Frequency Response: 85Hz - 10kHz +/- 3dB(dipole mode)
Frequency Range: -6dB @ 63Hz and 42kHz(monopole mode)
Frequency Range: -6dB @ 63Hz and 15kHz(dipole mode)
Crossover Frequency: 4kHz (mono-pole mode)
Crossover Frequency: 250Hz (dipole mode)
Nominal Impedance: 8 Ohm (minimum 3.3ohm)
Recommended Amplifier: 25W - 100W
Dimensions (H x W x D mm): 249 x 380 x 153
Weight: 5.2kg
Finishes: Black
Send us an enquiry
Talk to an Expert
Our Vision Hifi staff members are available to discuss our products and your requirements. Contact us today for assistance.
Contact Details
1300 721 480

Vision Hifi
327 Goodwood Road
Kings Park SA 5034