Acoustic Treatment - Why It's So Important
Regardless of the brand, model, or how much you spend on the quality of your speakers and other AV equipment, perhaps the most significant limitation to the performance of your Cinema or Hi-Fi system - could be the very room itself... (More information)
Availability:

Special Order

Categories:

Sub-categories:

Brand:

Delivery:

Contact us for Delivery Charges
Need Affordable Installation?
For our Adelaide customers, Vision Hifi offers a range of affordable installation services for your home or office. Discover our Installation Services .
Contact us for pricing and purchasing enquiries.


Product Details
Improving Room Acoustics
In the same way a super-car cannot perform it's best unless fitted with a set of high performance tyres, your high quality AV system is highly likely to be seriously limited by the untamed acoustics of your chosen room.
Some simple reasons for this include:
Your room is constructed with very large, almost perfectly smooth, acoustically reflective surfaces.
Sound from your audio system bounces around the room for long periods of time, thanks to those lovely flat surfaces.
Human hearing really isn't well adapted to listening (hearing clearly) in echoey spaces.
"The more echoey or reflective the room is and the longer your hearing is bombarded by reflected sounds, the harder it becomes to clearly hear the details and speech in your music or movie soundtrack."
---

---
Do you find yourself turning up the volume?
When we ask our prospective clients what they would criticise most about their current or previous home theatre (or Hi-Fi) experiences - be it the simple built in TV speakers or some form of surround sound system - their response often sounds something like this...
"... I struggle to understand what the actors are saying..."
Or most commonly
"...When I'm watching TV or a movie, I have to keep turning up the volume to hear what's being said, then I have to turn it down again during the action scenes because it gets too loud..."
This is almost always caused by the simple reasons mentioned above and is often compounded by other factors such as less than optimal placement of speakers and seat positions.
The more echoey or reflective the room is, the more your hearing is bombarded by the same sounds bouncing around the room.
The older sounds reflected off walls and other surfaceas, which arrive at your ears shortly after the original sound from the speaker, can force your hearing to be momentarily and repeatedly distracted or overwhelmed, preventing you from clearly hearing and understanding the next wave of incoming new sounds - the sounds you actually want to hear - such as the next line of dialogue.
A good way to think of this is that the old sounds are competing to be heard at the same time as the new sounds.

When this is happening it's only natural that you'll attempt to hear more clearly by turning up the volume of your amplifier - which of course also turns up the volume of the reflections.

How can we fix this?
An acoustic treatment solution tailored for your room will vastly improve your experience.
While it's probably fair to say that any basic acoustic treatment is usually better than none, your results are maximised through a thorougly considered room design.
At Vision Living, our design process will often include consideration for many attributes such as seating position, optimised speaker placement as well as an acoustic treatment solution.
Ok... So how does acoustic treatment actually work?
Firstly there are three main types of treatments used to control the internal acoustics* of a room, these are usually in the form of modular panels which are fitted onto the walls and/or ceiling surface.
1.Absorption Panels

2.Diffusion Panels

3.Bass Trapping Panels
(*Note: acoustic treatment changes the behaviour of sound within the room and should not be confused with "sound proofing". Sound proofing is better stated as "room isolation" which typically requires a very different approach to the construction of the room structure - walls, ceiling and floor - Room Isolation is done in order to control unwanted noise escaping and or entering the room - this subject to be discussed in greater detail in another article).
Artnovion Absorbers & Diffusers at Vision Living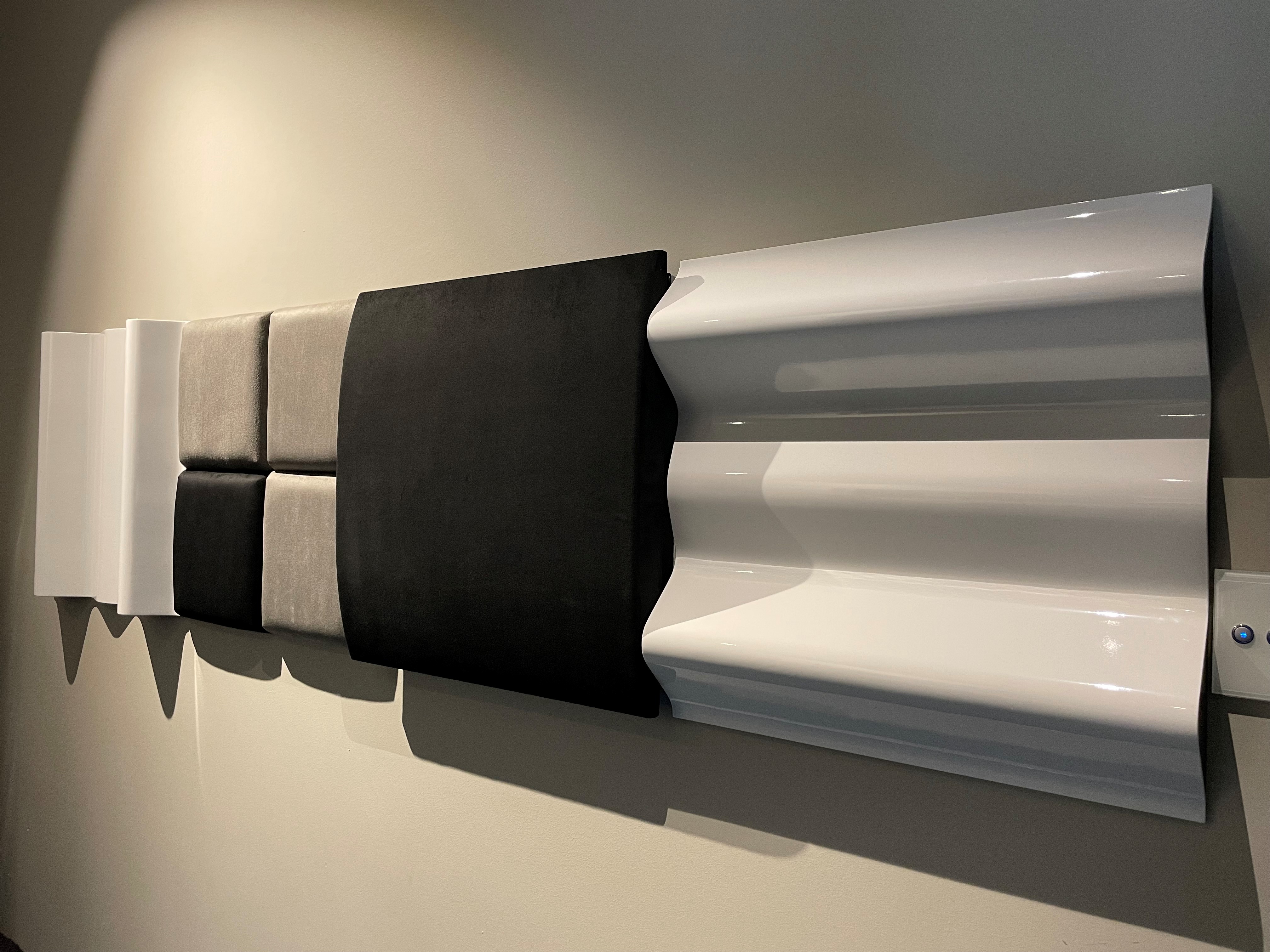 Absorption Panels (Absorbers) are typically made of a material which is porous and soft; such as foams, fabric, and compressed fibres.The intended action of an absorber panel is to essentially "soak up" high and mid frequency sound waves so that there is a significant reduction in the sound that would otherwise have reflected back into the room toward the listener.

Diffusion Panels (Diffusers) are usually made of harder materials which are arranged in a way that changes the topography of a normally flat surface to one with a varied surface. The resulting action of the is type of panel is to break up, scatter, or redirect sound waves. Diffusers can be used to shape the sound stage and maintain a sense of energy and sapciousness in the room which would otherwise be lost with too much absorption.
Bass Traps are employed to rapidly dissipate excess bass energy which can be slow to decay. The more effective bass traps act to rapidly capture or dissipate bass frequencies through energy conversion - converting pressure to velocity. The result is a cleaner, tighter, more powerful sounding bass response in the room, therefore serving to improve the listener's perception of the overall audio spectrum.
Virtually any listening environment will benefit from a combination of the three panel types.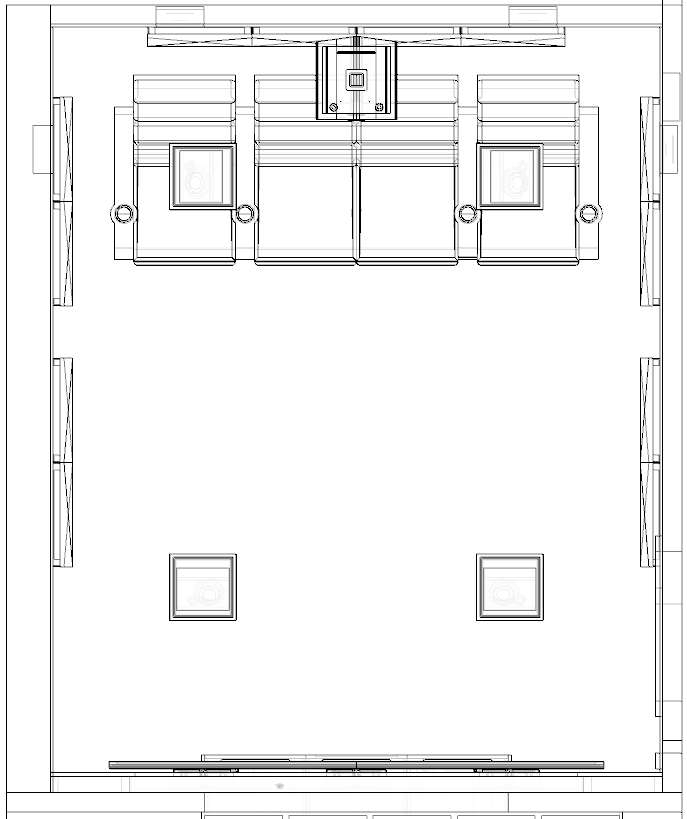 Acoustic Treatment Design
Whether we're designing a room from scratch or creating a solution for an existing system, we'll often start by determining the best place for speakers and seats, or by confirming their locations if everything is already in place. This determines where in the room the immediate or first order reflections occur so that we can control those with either diffusers, absorbers or combination.
Ideally, not only should you be able to set and forget your desired volume level, a well-designed acoustic treatment solution should be complementary to the look and feel of your room. Instead of struggling to understand what is going on you'll be hearing dialogue and other details clearly amongst the explosive effects of your favourite action sequences - as intended by the director. The sound stage will seem to extend beyond the bounds of the room making your cinema experience absolutely captivating and immersive.
Please contact us to make an appointment to discuss an acoustic treatment solution for your home cinema or Hi-Fi listening room.
Yale Taylor - Vision Living.
Contact Vision Living

Email:
Phone:
1300 721 480 or (08) 8272 8546
Address:
327 Goodwood Road Kings Park SA 5034
Send us an enquiry
Talk to an Expert
Our Vision Hifi staff members are available to discuss our products and your requirements. Contact us today for assistance.
Contact Details
1300 721 480

Vision Hifi
327 Goodwood Road
Kings Park SA 5034