Marantz MM7025: 2-Channel Power Amplifier
Use it in an AV setup to give your front channels a boost or for the additional surround channels you know you deserve... (More information)
Availability:

Call to Buy

Categories:

Sub-categories:

Brand:

Delivery:

Contact us for Delivery Charges
Need Affordable Installation?
For our Adelaide customers, Vision Hifi offers a range of affordable installation services for your home or office. Discover our Installation Services .
Buy this Product
---
Contact us for Delivery
Order this product by calling us on 1300 721 480.
Vision Hifi is an Authorized Reseller. Order this product by calling us on 1300 721 480.


Product Details
Marantz MM7025: 2-Channel Power Amplifier
The MM7025 advanced technology serves all your listening needs.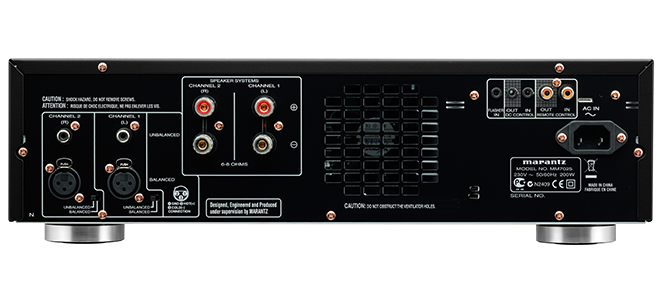 Current feedback circuits, also used in Marantz Reference Series amps, insure the purest sonic reproduction regardless of source. Another MM7025 virtue, and one directly traceable to its substantial current capability, is the control it establishes over difficult speakers to reproduce both dynamic musical peaks and whispered dialogue without blemish.
As befits a Marantz amplifier, the high-capacity power supply begins with an oversized EI-core transformer feeding carefully chosen capacitors capable of storing 30,000 microfarad of energy. This combination instantaneously delivers peak power to all amplifier stages for distortion-free reproduction of the most complex sources.
Combine with MM7055 or MM8077 for an outstanding multi-channel AV system.
Marantz MM7025 Specifics:
Marantz - MM7025 - Printable Information Sheet
2x 140W RMS 8 ohm (2x 170W RMS 6 ohm)
Current Feedback circuitry
2x Balanced or Unbalanced Inputs
Gold plated speaker terminals
DC trigger control inputs
Marantz remote bus
Available in Black
Send us an enquiry
Talk to an Expert
Our Vision Hifi staff members are available to discuss our products and your requirements. Contact us today for assistance.
Contact Details
1300 721 480

Vision Hifi
327 Goodwood Road
Kings Park SA 5034