Marantz SR8015: 11.2Channel A/V Receiver
... An elegant flagship centerpiece for your home cinema, with a masterful 140W per channel performance... (More information)
Availability:

Call to Buy

Categories:

Sub-categories:

Brand:

Delivery:

Contact us for Delivery Charges
Need Affordable Installation?
For our Adelaide customers, Vision Hifi offers a range of affordable installation services for your home or office. Discover our Installation Services .
Buy this Product
---
Contact us for Delivery
This product is each.
Order this product by calling us on 1300 721 480.
Vision Hifi is an Authorized Reseller. Order this product by calling us on 1300 721 480.


Product Details
Marantz SR8015 11.2 Channel 8K AV Receiver...
Marantz has long set the standard for AV amplifiers combining home theatre prowess with the most musical sound, and the SR8015 takes that capability to unprecedented levels.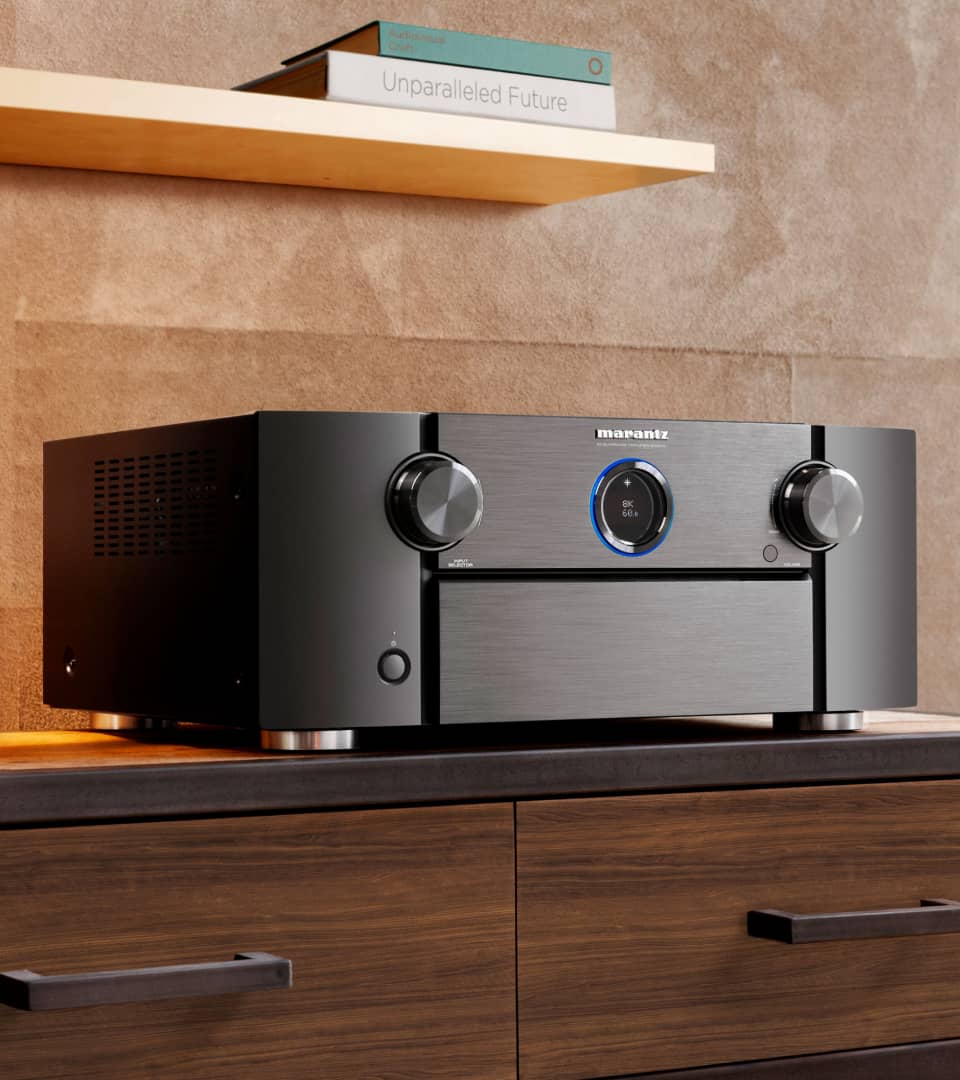 Marantz SR8015 - Printable Information Sheet

Experience the staggering impact of audio quality, which is quite simply an intoxicating mix of effortless power, amazing detail and sensational depth. This flagship AV amplifier marks the pinnacle in Marantz build quality with a centrally mounted toroidal transformer, copper plating and a symmetrical monolithic design.

Enjoy exquisite video performance thanks to the latest HDMI technologies such as 8K/60Hz pass-through or upscaling, various HDR format support including HDR10, HDR10+, Dolby Vision, Hybrid Log-Gamma (HLG) and Dynamic HDR, as well as the latest gaming technologies such as 4K/120Hz pass-through, Variable Refresh Rate (VRR) and Auto Low Latency Mode (ALLM).

Extensively tuned by world-renowned sound acousticians at the most state-of-the-art facilities, the new Marantz SR8015 leverages decades of experience in Hi-Fi to drive exceptional, audiophile-quality surround sound for all your entertainment.
Key Features
---
Performance, power and connectivity to suit your audio preferences:Delivering a masterful 205W per channel so you experience your entertainment in remarkable detail.
8K/60Hz and 4K/120Hz pass-through support for every entertainment need:With the latest technology in HDMI support, enjoy 8K quality video from your 8K source devices or with 8K upscaling from Full HD or 4K sources.
Featuring the most advanced three-dimensional audio formats:Dolby Atmos, Dolby Atmos Height Virtualization Technology, DTS:X and DTS Virtual:X, IMAX Enhanced and Auro-3D processing are all supported to allow you to listen to all of your favourite audio styles.
DTS:X Pro support:DTS:X Pro is capable of processing up to 13 channels, wowing listeners with the most cutting edge DTS technology (available in a future firmware update).
Enhanced Audio Return Channel (eARC) HDMI support:Through the main HDMI output, connect your TV with eARC HDMI support to allow uncompressed and object-based audio formats like Dolby Atmos and DTS:X directly from a smart TV app to your AV amplifier.
The greatest technology for home cinema:Support for the latest HDR formats including HDR10, HDR10+, HLG, Dolby Vision, 4:4:4 colour resolution and BT.2020, as well as Dynamic HDR provides exceptional picture quality for brightness, clarity and contrast.
Advanced gaming specifications:With 4K/120Hz pass-through, Variable Refresh Rate (VRR), Auto Low Latency Mode (ALLM) and Quick Frame Transport (QFT), experience gaming thrills with amazing imaging and reduced lag.
High-resolution streaming for audiophile approved sound:Play back ALAC, FLAC and WAV lossless files up to 24-bit/192-kHz as well as DSD 2.8MHz and 5.6MHz tracks, and enjoy your music exactly as the artist intended.
Exclusive components elevate the Marantz sonic signature:Marantz proprietary HDAM circuit boards, Current Feedback circuitry, AKM AK4458 32-bit D/A converters, and Hybrid PLL Clock Jitter Reducer produce more detailed, dynamic sound.
Almost unlimited music sources:Stream from music services like Spotify Free and Premium, Amazon Music HD, Tidal and more, or stream directly from smart devices via AirPlay 2 or Bluetooth
Features HEOS Built-in and the free HEOS App:Your key to digital music streaming, multi-room audio and voice control throughout your entire home.
Supports all your favourite voice assistants:With the SR8015, simply use your voice to control your preferred voice assistant like Amazon Alexa, Google Assistant and Apple Siri.
The Most Musical Sound
---
Extensively tuned by Marantz sound masters at the most state of the art facilities to deliver an exquisite sonic signature. No component leaves the hands of the Marantz sound masters until it passes rigorous testing. Envelop yourself with the most musical sound, from any source.
Discover Why Marantz
Premium-Performance Discrete 11-Channel Amplifier
---
| | |
| --- | --- |
| With unparalleled Marantz performance, the new top-of-the-line SR8015 AV amplifier is made for those wanting the ultimate audio and video experience, paired with the latest features. Its symmetrical monolithic amplifier design gives it 11 identical amplifier channels, each delivering 205W per channel, for seamless surround sound integration. The design also includes a large toroidal transformer, mounted centrally for mechanical balance, a copper plated chassis, selected high-quality audio components throughout and high-grade speaker terminals. | |
Masterful 8K HDMI Connectivity with eARC Support
---
The new Marantz SR8015 includes 8 HDMI inputs and 3 outputs for all your favourite sources. One dedicated 8K input supports 8K/60Hz and 4K/120Hz pass-through capability, 4:4:4 Pure Color sub-sampling, Dolby Vision, HLG, HDR10, 21:9 video, 3D and BT.2020 pass-through. Additionally, the latest HDCP 2.3 copy protection standard is supported on all HDMI ports. Showcasing the latest HDMI technology and specifications, the new SR7015 lets you take home entertainment to the next level with HDR10+, Dynamic HDR, ALLM, VRR, QMS and QFT support. The video processor is capable of upscaling native video sources up to 8K quality. The SR7015 also features HDMI eARC support, which supports 3D audio formats like Dolby Atmos and DTS:X in masterful quality from your TV apps. Conveniently, your HDMI inputs automatically rename themselves with information provided by the source (when available).
Dolby Atmos and Dolby Atmos Height Virtualization Technology

---

Feel every dimension in Dolby Atmos with up to 7.1.6 or 9.1.4 configuration (with additional 2ch amplifier). Enjoy a 7.1 or 9.1 surround sound speaker system and up to six additional overhead speakers or four Dolby Atmos enabled up-firing speakers for the ultimate home theatre experience - including Dolby Surround upmixer for legacy content. For those without in-ceiling speakers, Dolby Atmos Height Virtualization Technology leverages Dolby's deep understanding of human audio perception to create the sensation of overhead sound from listener-level speakers.

DTS:X and DTS Virtual:X

---

DTS:X immersive audio content places sound where it would naturally occur in space, creating life-like, multi-dimensional audio. The included spatial remapping engine of DTS Neural:X offers improved immersion and heightened realism for all your favourite movies. DTS Virtual:X provides immersive audio without height channels, creating virtual height effects in a 7.1, 5.1 or 2.1 speaker arrangement.
DTS:X Pro
---
| | |
| --- | --- |
| Features the latest in DTS 3D audio technology. Enjoy up to 13.2 channels of audio processing with DTS:X Pro to enjoy a full surround sound in exquisite detail. You will need an additional external stereo amplifier connected to the SR8015 to drive an additional 2 channels (DTS:X Pro available with future firmware update). | |
IMAX Enhanced Technology

---

Get the most premium at-home entertainment experience with IMAX Enhanced ? the latest technology from DTS that sets a new standard for home theatre imaging, sound, scale and clarity. Watch clearer pictures and brighter images. Feel immersive, heart-pounding audio and experience premium content digitally remastered by IMAX.

Auro-3D Experience

---

By fully immersing the listener in life-like sound, Auro-3D provides a more encapsulating surround sound experience thanks to dedicated height and overhead channels in addition to the regular channels. The SR8015 supports 7.1, 9.1 and up to 13.1 Auro-3D configuration including top surround channel, or the ?Voice of God" speaker above the listening position with an added amplification for 13.1 setting. Also supported is Auro-Matic, the groundbreaking up-mixing algorithm that converts legacy content into the Auro-3D format.
Experience the Next Chapter in Movie Entertainment
---
Enjoy all your entertainment in the highest quality formatting available. Screen your movies in 8K with 8K/60Hz pass-through or upscaling, and take advantage of advanced video technologies like Dynamic HDR, HDR10+ or Dolby Vision.
Quick Media Switching (QMS) eliminates previously known video delay.
The Next Level in Gaming

---

Experience the highest quality gaming thrills yet. Enjoy your gaming with 4K/120Hz pass-through, as well as Variable Refresh Rate (VRR), Quick Frame Transport (QFT), and Auto Low Latency Mode (ALLM), which reduces or eliminates lag and frame tearing to offer a smoother, lag-free gaming experience.

Dual Subwoofer Outputs

---

Supports dual subwoofers for even, low-frequency bass response within your listening environment. Enjoy accurate bass with no audible peaks or dips, no matter where you place your subwoofer. Connected subwoofers can be calibrated independently thanks to Audyssey Sub EQ HT technology for more seamless bass performance tailored to any room.
Supports Major Voice Control Agents
---
Enjoy effortless voice control and total flexibility from the leading voice agents. Speak commands with Amazon Alexa, Google Assistant and Apple Siri. Ask to play your favourite music, turn the volume up, skip to the next track, switch inputs and more. Switch between voice agents or pick a favourite to use - you're in control. (Functionality and availability vary by voice agent)
Amazon Alexa Voice Control

---

Use your voice to stream your favourite music services through Alexa to the SR8015 with HEOS Built-in. Ask Alexa to play music from Spotify, TuneIn Internet Radio, TIDAL and more. Turn volume up or down, pause, mute and play the next song ? all with your voice. To start streaming with Alexa voice commands, open the Alexa app and select ?Skills." Add HEOS Home Entertainment to enable. Then, go to Smart Home in the Alexa app menu and choose Devices and Discover or say ?Alexa, discover my devices."

Learn More

Google Assistant Voice Control

---

Ask your Google Home, Google app or other devices with Google Assistant built-in to control content across your listening environment. Start music in the HEOS app, then ask your Google Assistant to control volume, play, pause, skip tracks and more. ?Works with the Google Assistant" feature is always improving.

Learn More
AirPlay 2 and Apple Siri Voice Control
---
Stream audio from your favourite music services like Apple Music and Spotify or watch videos from services like YouTube and Netflix from any iPhone, iPad, Mac or Apple TV. Hear audio perfectly synced to your speakers from AirPlay 2 sources. AirPlay 2 also supports multi-room audio ? wirelessly stream content to multiple AirPlay 2 compatible devices simultaneously with improved audio buffering for smooth audio playback. AirPlay 2 provides control and grouping of compatible audio devices within the Apple Music or Home app. Use AirPlay 2 in-app or control with your voice via Siri.
Learn More
Built-in Wi-Fi and Bluetooth Wireless Streaming with Dual Diversity Antennas
---
| | |
| --- | --- |
| Featuring dual diversity antennas, the SR8015 lets you stream your favourite audio tracks wirelessly via Wi-Fi and Bluetooth. The dual diversity antenna system ensures stable streaming even in congested urban environments, and the Wi-Fi function features 2.4GHz (11b/g/n), 5GHz (11a/n) technology for compatibility with the widest range of smart devices. The SR8015 offers quick and easy push-button Wi-Fi protected setup and simple iOS Wi-Fi sharing. | |
Bluetooth Audio Transmission
---
| | |
| --- | --- |
| | Watch the latest movie or listen to music without waking the house. Listen to the audio on Bluetooth-connected headphones wirelessly and main speakers off, not to disturb anyone around you. The SR8015 allows you as well to play audio on both Bluetooth headphones and connected speakers simultaneously. If you have a family member or a friend who is hearing impaired, this is a great option to enjoy a movie together without raising the overall volume. |
HEOS Built-in
---
HEOS Built-in is your key to an unlimited music experience, anywhere in your home. Play songs stored on your smart device or personal media server, and stream your favourite hits from leading streaming services like Spotify, Amazon Music HD, TIDAL, TuneIn Internet Radio and more, even in high resolution. Pair your HEOS enabled AVR with any HEOS Built-in product or speaker, and distribute any music source or TV sound anywhere in your home.

*Availability differs by area, subscription may be required
Hi-Res Audio Support
---
The ability to decode Hi-Res audio ALAC, FLAC and WAV lossless files up to 24-bit/192-kHz, as well as DSD 2.8MHz and 5.6MHz tracks (the audiophile format of SACD) lets you enjoy each note exactly as the artist intended. Listen to your music via the front panel USB port or over network sources.
Send us an enquiry
Talk to an Expert
Our Vision Hifi staff members are available to discuss our products and your requirements. Contact us today for assistance.
Contact Details
1300 721 480

Vision Hifi
327 Goodwood Road
Kings Park SA 5034