30th January 2011

C-Bus Lighting
What is C-Bus point
O
ne?

C-Bus pointOne is a group of specialist systems integration companies who have the technical knowledge and practical experience of a whole range of complimentary technologies to enhance the functionality of your residential or commercial premises. The one point of contact, C-Bus pointOne members make commercial and residential lighting control and automation applications an easier process. They do this by providing turnkey solutions for the design, project management, installation, integration, programming and support of Clipsal C-Bus and integration with products from third party manufacturers.

C-Bus pointOne members are accredited integration professionals, who have been trained in all aspects of the Clipsal C-Bus system, and some have over 30 years of industry experience. They discuss what options are available to meet individual requirements and budgets, and have a broad understanding of automation products and develop a detailed solution to fit. They are often involved in the installation of the system, but also work with pre-existing installers to complete the project.

C-Bus pointOne has been created to allow the market access to the industry's best skills and experience, and all members are backed by the industry's number one brand, Clipsal Australia Pty Ltd. For these reasons, when you see the C-Bus pointOne brand, you will know you are getting the best integrators of automation and lighting control products working on your project.
A C-Bus pointOne accredited integration professional is your one point of contact for all things in automation and lighting control. They will provide a total solution and be involved in the project to ensure all elements of the integrated system are produced in harmony.
Design
A C-Bus pointOne accredited integration professional will identify the automation and lighting control needs of the project and deliver tailored solutions to meet those needs. The sky is the limit, but everything specified is dependant upon what is required by the individual client. This includes understanding how the residential or commercial environment is expected to function now and into the future and thus how to integrate the system to perform to everyone's expectations.

This faze of the project involves producing detailed specifications on what the residential or commercial project will include whilst consulting all parties concerned such as architects, designers, consultants, specifiers, builders, electrical contractors and end users. All existing electrical devices including lighting, security, home cinema, irrigation and temperature control as well as those that could be introduced in the future are taken into consideration. Interfaces, such as switches, remotes, touch screens, PC access or mobile phone access, are also chosen to fit with the current or planned design of the building and its occupants, in terms of functionality and visual appeal.

C-Bus pointOne accredited integration professionals should always be involved in the early planning and design stage of the project to aid in establishing the "wish list" and thus give advice on how the new home or commercial premises can operate to its full potential.
Project Management
If the team of builders, electrical contractors, consultants and other parties are already assigned, a C-Bus pointOne accredited integration professional can provide project management support to oversee the development of the system and ensure the original design is delivered to plan. They can be involved as much or as little as required, but will always ensure the project is running smoothly and customer expectations are met.

C-Bus pointOne accredited integration professional also either have the necessary resources to do the entire automation job themselves, or the contacts to commission third parties to get involved to complete the job. This can include electrical contractors to do the physical installation of the system.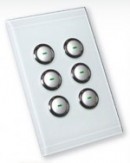 Installation
The installation of the chosen system can be completed by a C-Bus pointOne accredited integration professional or their commissioned contractors. Otherwise, they will work with and/or project manage installation by contractors who have already been assigned the job.
Installation services provided will work around building construction timelines for new facilities or other relevant factors, such as occupancy and timeliness if it is an existing building.
Integration
C-Bus pointOne accredited integration professionals use C-Bus technology as the central nervous system to control the automation of all products and appliances within the relevant residential or commercial premises – from lighting to irrigation, temperature control to multi media systems and everything else in between. Normally these products and appliances would be stand-alone and controlled individually, but with C-Bus a network is created to control multiple products and appliances at once and with one or multiple switches, keypads, touch screens and remotes. The technologies act intelligently and can be customised dependant upon the needs of the occupants; lighting scenes can be created and temperature control devices can be programmed to come on at specific times. Integration is about combining all of these various technologies to make life simpler, more efficient and more cost effective.
C-Bus pointOne accredited integration professionals only integrate third party products that can communicate with the C-Bus system and be controlled by it. These products are leaders in their industry and are either connected to the C-Bus system directly or communicate with the system via infrared connections.
Those third party products that can connect directly to the C-Bus system are part of the C-Bus Enabled Partners program and endorsed by Clipsal Australia Pty Ltd.

With just the simple touch of a button, C-Bus pointOne accredited integration professionals can integrate and allow you to control virtually every electrical appliance possible. It is about creating a complete system where products and appliances work together.
Programming
The C-Bus system is programmed to suit your lifestyle or working environment. Lights can come on at pre-programmed times at night and turn off with occupancy sensors. A timer attached to the coffee machine can ensure it is brewed when everyone gets up in the morning, and climate control devices can be operated throughout the building with one touch screen or switch. A C-Bus pointOne accredited integration professional will program your automation system as based on the initial designs, and alter it at any point to ensure everyone's needs are accommodated.
As things change, new products and appliances may be added to the system allowing elements to be reprogrammed and built upon. Your system can be programmed via a computer or sometimes manually on the switches, remote controls or touch screens chosen.

An electrical contractor can even wire the system, and then a C-Bus pointOne accredited integration professional can come in and ensure the programming fits the needs of the occupants.
Support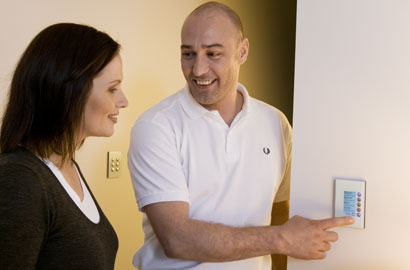 Once the system is installed, the service does not end there. Your C-Bus pointOne accredited integration professional will ensure the system is running as you designed it to and also come back at regular intervals to correct any issues, reprogram elements or upgrade any of the system.
They will also provide technical support, training and documentation to help you manage the system yourself, including customised system manuals, such as installation drawings and any necessary product manuals. Therefore, if they are unable to service any future system requirements you have, a contractor or other integrator can come in and follow the documentation to add to or change the system, as you require.
For more information go to: www.c-buspointone.com.au