24th April 2011

C-Bus Lighting
What's really clever is that any button on any switch can control not just you lighting but a lot more...
Control it all by remote control, or incorporate sensors that turn lights on automatically, to full power or just a dim glow.
C-Bus allows you to incorporate control of AV equipment, air conditioning, motorised blinds, garage doors, sprinkler systems, keyless entry systems, pool or spa pumps, water features, security systems - you name it.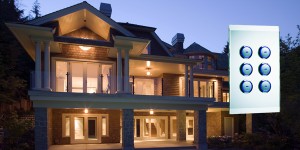 Not only do you get great functionality, but you also get great looking switches, in a variety of colours and finishes including the modern designed Neo, pure glass Ulti Saturn or the clean lines of the stainless steel Reflection.
To make your C-Bus system even more user friendly, DLT wall switches features an LCD display that allows each button to be labelled so you know what each one does. The labels can have any look you like, can even be a picture, and can be changed at any time.
Why not add a touch screen in main living areas. The C-Bus C-Touch colour touch screen provides a large, easy to read graphical display, allowing anything in the home to be controlled from one central location.
Clipsal has now introduced Multi Room Audio to the C-Bus family. The same elegant light switch that controls your lights, now also controls your music. Imagine music throughout your home without bulky speakers or controllers on the wall. Ceiling or wall-mounted speakers blend in, making this a system that is heard and not seen. Up to eight separate areas can be playing either the same music, or select from up to five different sources (plug in your radio, CD, media player, etc. There is even the flexibility to plug in a local source in each area, which is great for kid's rooms with their MP3 players.
With a C-Bus System, you can now choose from the following smart options:
Entertainment - Recreate that cinema experience in your very own lounge room. Get comfortable as you sit down to watch a movie and adjust the lights to the exact level you want. Close the motorised curtains and play a DVD, all via remote control. Hit party mode and welcome your quests with outdoor and entrance lighting, water features activated, soft lighting at the dinner table, air-conditioning and even ambient music.
Convenience - Simply press welcome Home mode when you arrive and the system will create the perfect environment by turning on selected room lights, air-conditioning and music. You could also have a goodbye mode. Forget fumbling in the dark for keys or light switches. Choose pathway mode simply by opening your garage door when returning home to create A path of light from one area of the house to another.
Comfort - Forget going around your house and turning off all the lights. Simply press the goodnight button on your remote (or switch next to your bed) and all lights fade off. Need to get up during the night? Hit another button to turn on lights dimmed to half brightness so as to not disturb the rest of the household; perfect for getting ready for that red-eye flight or feeding the baby in the early hours. Repetitive switching can be a difficult task for the elderly or diabled. C-Bus can be set-up to simplify these tasks and create preset lighting sequences, controlled automatically from a single button or morning, bathroom, welcome home and goodnight.
Security - Hear a strange noise? Hit panic mode and light up your whole house instantly. All external as well as internal lights will turn on to maximum brightness. if desired, your Clipsal Smart Home System can be linked to your security system for even greater peace of mind. If you plan on being away from home for some time, deter would-be burglars by giving your home the lived in look. Lights can be turned on and off at set times as well as opening curtains during the day and closing them at night again, all according to schedule