28th January 2011

Audio
DENON goes Airplay
Now Available: Denon has announced an upgrade available to owners of its D-N7 multimedia system and AVRA100, AVR-3311 and AVR-4311 receiver models, enabling full support of Apple's new AirPlay streaming audio system. This makes Denon one of the first brands with this capability, further cementing its reputation as a leader in innovative entertainment technology.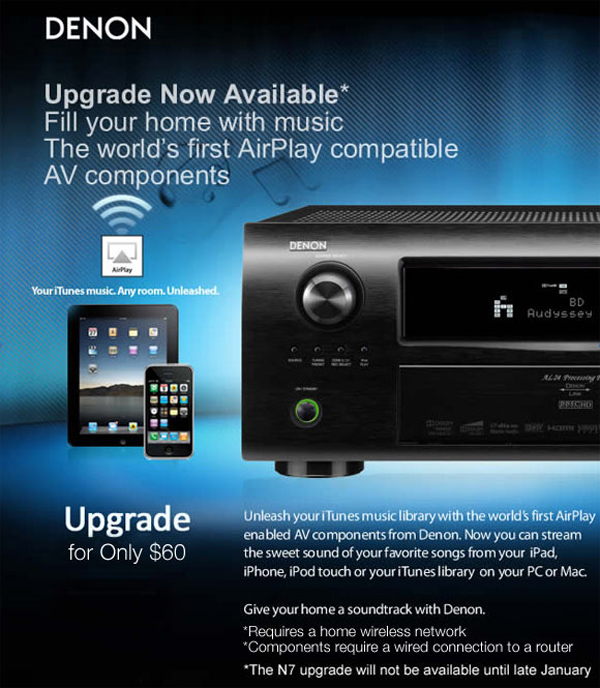 Owners of these Denon products will be able to enjoy wireless streaming of high quality music directly from their iPhone, iPad or iPod Touch, or use the Apple Remote app to control their iTunes library and stream audio from their Mac or PC, liberating music lovers from cables and the usual constraints of conventional audio.
The recent AirPlay release from Apple, which requires the latest iOS 4.2 and iTunes 10.1, delivers true 'music anywhere' enjoyment. It not only streams pure digital audio, but also sends the metadata to enable display of artist and song info as well as album art. Multiple AirPlay devices can be used throughout the home for a simple and elegant multi-room audio solution.
The upgrade will be available to owners of the Denon D-N7, AVRA100, AVR-3311 and AVR-4311 products via direct download for a nominal charge of $60. The download and installation process is made simple thanks to the ethernet connection on these models that permits a direct connection to the internet and Denon's file server.
DN-7 AirPlay Instructions and AV Receiver AirPlay Instructions