26th March 2011

Home Automation
Home Automation Explained
As a very basic definition, home automation is anything that gives you remote or automatic control of things around the home.
While a lot of the technology isn't new, Jaesun Marston from Vision Hifi explains that more recent advances lie in the integration of intelligent home systems — where the house's lighting, security, heating, cooling as well as entertainment all work in harmony and can be all controlled from one or a multiple of touch screens, computers or hand held devices such as smart phones or wifi remote controls.
Jaesun says "You will be amazed at the possibilities. A touch screen with an integrated home controller processor can control a plethora of systems including being able to control all lighting, lighting scenes, curtains & blinds, ceiling fans, gas fire, air-conditioning, TV, AV equipment, pool equipment, security, CCTV, multi-room audio, water features, irrigation, entry doors and more.
Jaesun says "Home automation does not come out of the box. It requires extensive planning, design, installation and programming. Achieving the ultimate in home automation requires purchasing and installing the right home systems that allow for home automation integration"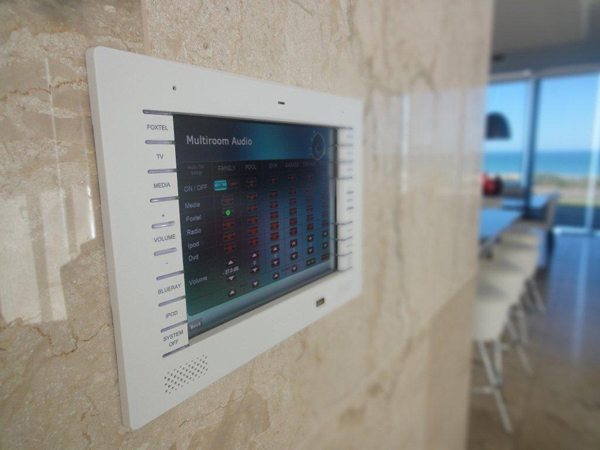 Examples of home Automation:
A press of a light switch turns on a whole range of lights in your home into a party mode or alternatively a programmed light switch can turn off all lights.
Motorised curtains and blinds can be automatically programmed to either open or close at a predetermined times of the day.
If a smoke detector alarm is triggered, all the lights in the home can automatically come on.
When your home alarm system is armed at night, clever programming can adjusts internal and external lighting sequences to mimic an occupied house.
If your alarm activated by an intruder, selected light circuits can be programmed to be turned on including allowing curtains and blinds to open up exposing any intruder to the outside world.
Accessing your home without the necessity of keys can be a real pleasure. Carrying keys sometimes may not be convenient like stepping out and going for a walk.
Letting people in, such as a tradesman or checking closed-circuit cameras remotely via the web or your smart phone.
It might be that when you hit play to watch a movie on the remote control the lights go down fully and are brightened to 40 per cent when you press pause.
Receiving audible notification within your home when your garage door is open or has been left open for an extended period of time.
Motorised lifts that allows your TV to immerge and then magically disappears back in its hiding place when the TV is turned off.
Turn off entire rooms electrical, entertainment, lighting and more with one touch.
Just about every home has some form of automation. For example your garage door in all probability is controlled by a remote control. Your TV remote is also a form of home automation. Clever home automation grabs all your homes technology and integrates it into one intelligent package. Home automation does not have to be complicated. You can be selective and choose features and functions that are important to you.
Jaesun says "home automation is virtually limited to your imagination"