19th January 2011

Home Theatre
AV Cupboard & Storage
After you've bought your precious audio and video components, it's time to put them somewhere. Sure, you can put them anywhere you want, but in case you want to protect your items, I'm sure you would want to look deeper into what options are available.
Equipment cupboards come in all shapes and sizes, and are as diverse as the equipment they carry. Yet there are a few basics things to consider when purchasing or having a cupboard custom made.
Since AV cupboards are used for audio video equipment storing, you need to be able to easily access everything whenever you want. So that's another important fact to look after. Bear in mind that you need full access to both front and rear panels because both sides are equally important.
Let's discuss some of these issues.
Firstly the size of the cupboard is critical for a number of reasons. AV equipment generates a lot of heat. The more equipment the more heat. The smaller the cupboard the more heat. You get the picture. A typical AV cupboard will consist of:VENTILATION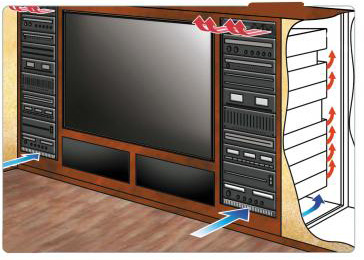 AV Receiver / Blu-ray / DVD Player / Set Top Box / Foxtel / Game Machine
To ensure over heating does not become an issue, allow for ventilation holes. Ventilation openings should be placed both top and bottom. Don't be fooled, they need be significant openings. Allow at least 5% in ventilation area versus the entire top and bottom surface area. Perforated metal material on the doors or sides of the cupboard would also be something worth considering. Despite all efforts our climate can be severe. Summer weather can take its toll on us humans let alone sensitive high powered AV equipment. So how can we be sure the ventilation holes will do there job. Well the truth is we don't. The only real way of protecting your investment is to have ventilation openings including a ventilation fans system installed. A ventilation fan system is quiet and relatively inexpensive.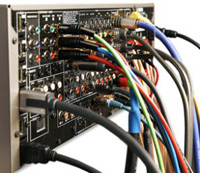 DEPTH
Cabinet makers and furniture designers have little idea when it comes to allowing sufficient depth in their cabinet design. A common manufactured depth is 50cm deep. This is a real problem. Let us explain why. The average Denon or Marantz Receiver is 42cm deep (some are even more). "That leaves plenty of room" some might say...8 centimeters to be exact. Wrong! In all probability the cupboard door will not close. Next time you get the opportunity at looking at an installed AV receiver. Look behind at where the connection cables are. Cables require a lot of room. Let's consider what the average receiver has connected:
1 - Power Cable
1 - Front Left Speaker Cable
1 - Front Right Speaker Cable
1 - Centre Speaker Cable
1 - Left Surround Speaker Cable
1 - Right Surround Speaker Cable
1 - Subwoofer cable
1 - HDMI to TV / Projector cable
1 - HDMI from Blu-ray
1 - HDMI from Set Top Box
1 - HDMI from Foxtel (iq2)
1 - HDMI from Game Console
1 - Audio out from TV to receiver
Cables need a minimum of 12cm. This allows for all the plug connections and for the mass of cable that can't help be behind the unit.
Don't accept anything less than a minimum of 55cm in depth and where possible make it even more.
WIDTH & HEIGHT
Width and height of the cabinet will be determined by the amount of components you intend using as well as your room design and layout. The average width for all AV equipment is 44cm. The most important factor about width is gaining access to the rear of the equipment. The ability to pull out and angle a unit will be an advantage both during the initial installation and for future maintenance and upgrading.
DEDICATED AV HUB
What is ideal? High end residential and commercial installation primarily uses Rack style solutions. Why? A central hub for all your electronics is ideal because it provides easy accessibility between all you components. Integration between your home's technology devices becomes more practical. It's substantially easier to gain access and to provide sufficient ventilation.
Glen E Browne