27th March 2011

Home Theatre
Home Theatre Lighting and Design
Home theatre lighting is an important topic to consider when building your new theatre. Although you will primarily be watching your movies with the lights out, you will still want to have good lighting coverage to set just the right mood for various occasions.
The right atmosphere can really enhance your enjoyment of a movie. Uncontrolled ambient light can wash out colours on front projector systems. Insufficient ambient light can make viewing a movie in total darkness result in eyestrain. Properly placed accent lights can help draw the eye to certain features of your new home theatre.
Perimeter down lights should be on your list. If you intend placing lighting near the projector screen, make sure they are on a different lighting circuit. This will allow you to watch a movie whilst having the side and rear down lights on. Lighting above the seating should also be on a separate light circuit.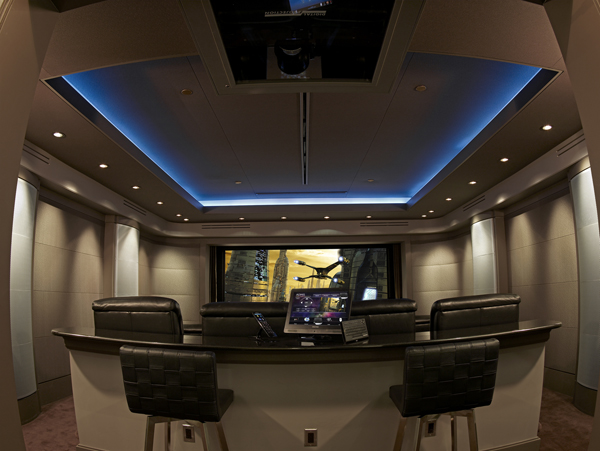 Some home theatres have 5 to 6 lighting circuits. This is particularly useful when you have the following lighting:
Front down lights.
Side down lights
Rear down lights
Centre reading lights
LED bulk head special effect lighting
Step Lighting
Consider seriously an electronic lighting system like C-bus. You don't need to have your whole house wired for C-bus. You can be selective...consider the home theatre as your first choice. C-bus will give you the ability so that with a single touch of a remote control, your projector turns on, the amplifier turns on, the inputs are automatically selected, the volume is set, and the DVD player begins to play whilst the lights gently dim. Press the 'pause" button and have the lights come on at 40%.
Lighting is the soul of any home. Think hard, think long and please dont overlook your lighting options..