2nd February 2011

Home Theatre
Subwoofer...that can be heard but not seen
As in-wall speakers have grown in popularity, manufacturers have introduced in-wall subwoofers to complete the package. They have also struggled to deal with the inevitable rattles and vibrations of a subwoofer mounted inside a wall. Paradigm has introduced the RVC-12SQ Architectural Subwoofer, which solves the vibration problem by using two drivers in-phase but firing in opposite directions, thus canceling vibrations. The drivers face each other and fire horizontally rather than from front to back, further reducing vibrations.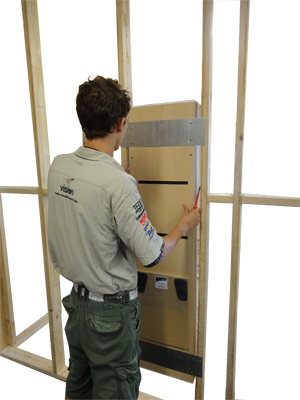 The system comes with three (3) components:
Back box - fitted between the timber studs.
Subwoofer - Installed at final fixing stage
Power Amplifier - installed with AV Amplifier.
Two power amplifier options are available. Either a 300watt or 850watt power amplifier is used to power the subwoofer drivers. The 300watt works great for small to medium sized rooms and for larger spaces, the 850w can be used to drive 2 units. For the home theatre enthusiast up to four (4) in-wall units could be installed for earth shattering sound all driven by two (2) 850w power amplifiers.
Having to find a space in you home to place a conventional subwoofer can finally become a thing of the past.
Compliment the RVC-12SQ Architectural Subwoofer with appropriate in-wall speakers and you will fill your home with beautiful sound rather than unsightly cables and speaker boxes.
Glen E Browne